The Benefits of Textured Vegetable Protein for Athletes
Texturized vegetable protein is a high-protein food. Adding it to your diet can stimulate muscle recovery, among other health benefits.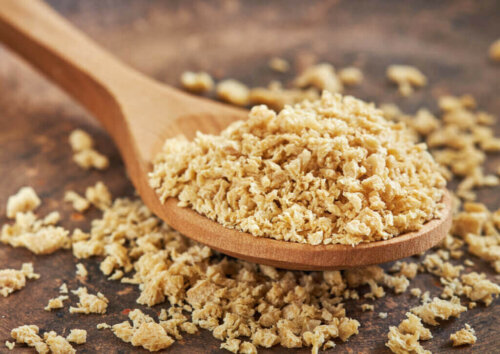 Those who follow vegan diets are constantly on the lookout for new plant-based foods that increase protein intake and nutritional quality. Many of these foods fit a flexible diet as well, making it more complete. Today, we'll discuss the benefits of consuming textured vegetable protein (TVP), also known as textured soy protein (TSP).
Textured vegetable protein essentially contains soy protein, with an appearance and texture similar to that of minced beef.  However, it's somewhat bland in flavor, which is why it's better when it's mixed with other ingredients that improve its organoleptic characteristics. 
Textured soy: a source of protein
If textured soy stands out for something, it's its protein content. In fact, this food contains high quantities of vegetable protein, and protein is essential to promote muscle recovery after exercise, according to a study published in the Journal of Applied Physiology. 
For decades, experts claimed that each person should eat 0.8 grams of protein per kilogram of body weight daily. However, recently the recommended protein intake per day for athletes has increased to two grams of protein per kilo of weight.
Also, fifty percent of the protein intake must come from plant-based foods. This makes textured vegetable protein a great option to meet those requirements.
TVP's fiber content
In addition to being high in protein, textured vegetable protein provides a significant amount of fiber. This substance is essential to maintain good intestinal health, as stated by a research study published in the International Journal of Molecular Sciences.
One of the most common discomforts that athletes go through is that of gastrointestinal nature, which may impair their performance. Eating an adequate amount of fiber helps reduce the incidence of this kind of ailments, which is why you must take advantage of TVP's benefits, especially when practicing a sport.
Does TVP contain isoflavones?
Soy in itself may not be suitable for all men. According to recent studies, depending on the microbiota profile, estrogen production (female hormones that counteract the effects of testosterone) could increase.
Such a situation, caused by the metabolism of soy isoflavones, i.e. nutrients with estrogenic capacity, isn't favorable. So, is TVP good for men?
Fortunately, textured soy protein comes from the vegetable's protein, meaning it loses the elements that aren't beneficial for men. Therefore, it can be consumed without any major risks.
Textured vegetable protein is low in calories
Textured soy protein is low-fat, which makes it low in calories. It mainly provides protein and complex carbohydrates, making it perfect for weight-loss diets. 
In fact, one of the greatest benefits of TVP is that it ensures the necessary protein intake to prevent muscle breakdown while providing few calories. This makes it possible to increase the overall energy expenditure.
In addition, it keeps you satiated so you'll avoid snacking on processed industrial products that aren't good for your health.
Why you should add TVP to your diet
If you've never tried this food, we encourage you to do so. There are many recipes online that you can try and give it a good flavor.
However, once you enhance its organoleptic characteristics, you'll be adding essential nutrients to your diet that'll keep you in good health and boost your athletic performance.
Remember that protein intake is extremely necessary. You must ensure you're adding other sources of protein as well, but keep in mind that plant-based protein, such as nuts and soy, is very important.
Start adding textured soy protein to your recipes to enhance the quality of your diet and promote quick muscle recovery.
It might interest you...