The Benefits of the Murcian Diet
Did you know that the Murcian diet is a variant of the Mediterranean diet, which is widely known for its health benefits? Keep reading and find out more about it and start working towards a healthier lifestyle.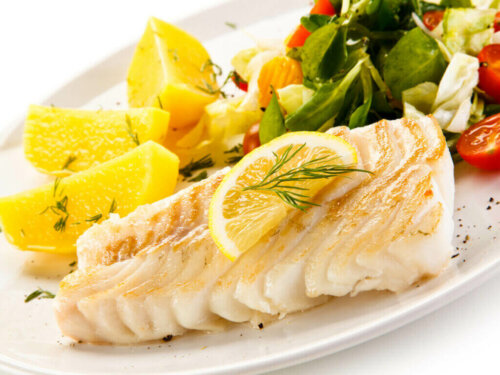 The Murcian diet is characterized by its high fish and vegetable content. These foods provide countless health benefits if you eat them regularly, which is what makes this diet ideal to change your eating habits.
After all, this is a Mediterranean diet variant, which has already been studied and classified as cardioprotective. In today's article, you'll find out what the main benefits of this eating model are. Take note and, most importantly, start eating more fish and vegetables to lower your risk of developing heart disease and other long-term conditions.
The Murcian diet provides antioxidants
The Murcian diet is high in phytonutrients with anti-inflammatory and antioxidant properties. These compounds have been associated with a lower incidence of various diseases.
According to a research study published in the Atherosclerosis journal, tomato consumption has been linked to lower cardiovascular risk. This is due to the presence of lycopene in tomatoes; lycopene is a flavonoid that neutralizes oxidation and the production of free radicals.
Phytonutrients are mainly in plant-based products, such as fruits and vegetables, as well as some spices and infusions. For this reason, it's most favorable to consume these foods on a regular basis if you're looking to improve your overall health.
More fish, better health
Another benefit of the Murcian diet has to do with fish consumption. Although it's true that this diet recommends a higher consumption of white fish, which is fattier, over bluefish, it still has positive effects on health.
Seafood, in addition to containing essential fatty acids, is an excellent protein source which in turn reduces the risk for muscle loss in adulthood.
A study published by Nutrition Research claims that the combination of proper protein intake and regular exercise is the key to preventing sarcopenia.
Current scientific trends show that prioritizing fish consumption over meat is a good decision when it comes to planning a healthy diet. The Murcian diet follows this premise, which is why it's considered a model diet.
Carbohydrates in the Murcian diet
One of the most criticized foods of the Mediterranean diet is bread. In the Murcian diet, however, this isn't the case. While carbohydrates are commonly present, they usually come from whole grain foods.
Carbohydrates in this diet, such as rice, tend to be of low glycemic index, that is, they take longer to digest. For this very reason, the Murcian diet helps speed up metabolism.
Eating refined foods, high in sugar, can lead to diseases such as diabetes, which to this day remains a lifelong disease. Even obesity and some types of cancer are connected to higher-than-recommended sugar intake.
The benefits of the Murcian diet
As we mentioned before, the Murcian diet is a definite health booster. Its high veggie content ensures your body is getting the antioxidants and macronutrients it needs, which reduces the incidence of non-communicable diseases.
On the other hand, the fact that it prioritizes fish consumption ensures constant protein intake, essential to avoid muscle catabolism. In addition, the diet eliminates all simple sugars, which can negatively affect pancreatic health.
In order to be in good health, remember to combine this diet with regular physical exercise. Eating fresh products and restricting processed foods will also help reduce the risk of developing diseases.
Finally, try to eliminate toxins from your diet such as alcohol or tobacco, since they're harmful in any amount. With all the new eating habits that the Murcian diet offers, you'll be in top shape!
It might interest you...