Injury Insurance for Professional Athletes
There are different types of injury insurance for professional athletes. These plans can be shared risk policies, or can be bought individually. Here, we'll tell you more about these physical, and even mental, protection mechanisms.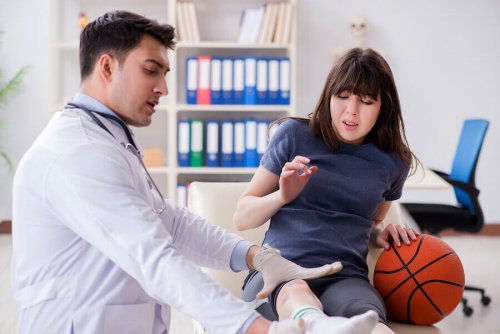 Insurance companies often lend their services to professional athletes and organizations. There are policies for everyone from amateur athletes to elite sports figures and professionals. Injury insurance for professional athletes is a matter that's both important and more than a little complicated.
Professional athletes place special emphasis on this matter of injury risk because it could have a big impact on their careers. This industry offers federative, shared, and individual insurance policies. The truth is that one single athlete will probably own more than one policy. Costs will vary depending on several factors.
Injury insurance for professional athletes: the basics
Specialized insurance for sportspeople tends to focus on medical care for muscle and bone injuries. The main medical services offered to treat these types of issues would be orthopedics, physical therapy, and psychological help. These are the treatments that athletes tend to be interested in the most.
Most sports insurances also offer international coverage. In almost all fields, athletes often participate in tournaments abroad. Injuries, of course, can strike anywhere at any time, even outside of one's own country. In the case of Spaniards, national medical insurance only extends through the countries of the European Union.
It's worth noting that athletes require medical attention and injury care beyond what their national medical insurance covers. That's why their policy and coverage will be much broader than the usual. Of course, the extent of this breadth will depend on the type of athlete we're talking about.
Sports injuries: injury insurance for professional athletes
The care that a third division soccer player requires isn't the same as that required by someone such as Cristiano Ronaldo or Lionel Messi. These types of figures have policies that only multinational corporations can afford. Federations and teams play an important role in these cases.
To start, policies for a big sports figure tend to be covered by multiple countries simultaneously. Their goal is to divide the risk among various insurers. Each of them tends to be responsible for a particular section or part of the indemnities for these athletes.
Beyond that, elite athletes tend to purchase individual insurance policies for astronomical amounts. These are meant to help them weather the worst-case scenarios. In fact, they commonly insure the parts of their body that are most important to their particular discipline. That way, if they're incapacitated by an accident, they can keep getting a backup salary.
Group insurance: what's it all about?
Aside from these particular cases, sports professionals tend to have federative or group policies. The teams or national federations themselves are the signatories to these policies. Their primary objective is also to deal with unforeseen injuries in the sport. In this case, though, they usually cover any ailment that could afflict the professional athlete.
There's also insurance that covers all player contracts or sign-on fees. Through these, the teams can deal with losses when athletes have to take time off. You see this type of thing frequently in soccer. Nevertheless, it also happens a lot in sports such as basketball or baseball.
For each policy, insurance companies consider factors such as age, the player's physical health, their salary, and all elements of risk. This last means that policy stipulations will be different for each sport.
Contact sports insurance policies have their own specific clauses about the types of risks they cover. There's also insurance that covers temporary or permanent disability. The specifics will change through time as the applicable laws change.
Not all insurance providers are the same
As is the case with normal health insurance, insurance providers also tend to compete and make their own proposals. If you really analyze all of the different insurance products, you'll see substantial differences. That's why it's essential for athletes to research all of the offerings available.
Some cover almost all sorts of accidents and costs against all contingencies. Others are more limited and may offer specialized services such as podiatry. There's truly a wide variety of injury insurance for professional athletes out there.
As for amateur athletes, they tend to choose policies that cover most health issues. There are also specialized policies that provide amateur athletes with medical treatment in the event of injuries.
In summary, sports institutions have a broad history with the insurance industry. The policies protecting against injuries will vary depending on the realities of each practitioner.
It might interest you...