What Are the Benefits of Taekwondo for Children?
Taekwondo can help children not just to develop their physical abilities, but to also develop as people. Find out more in this article.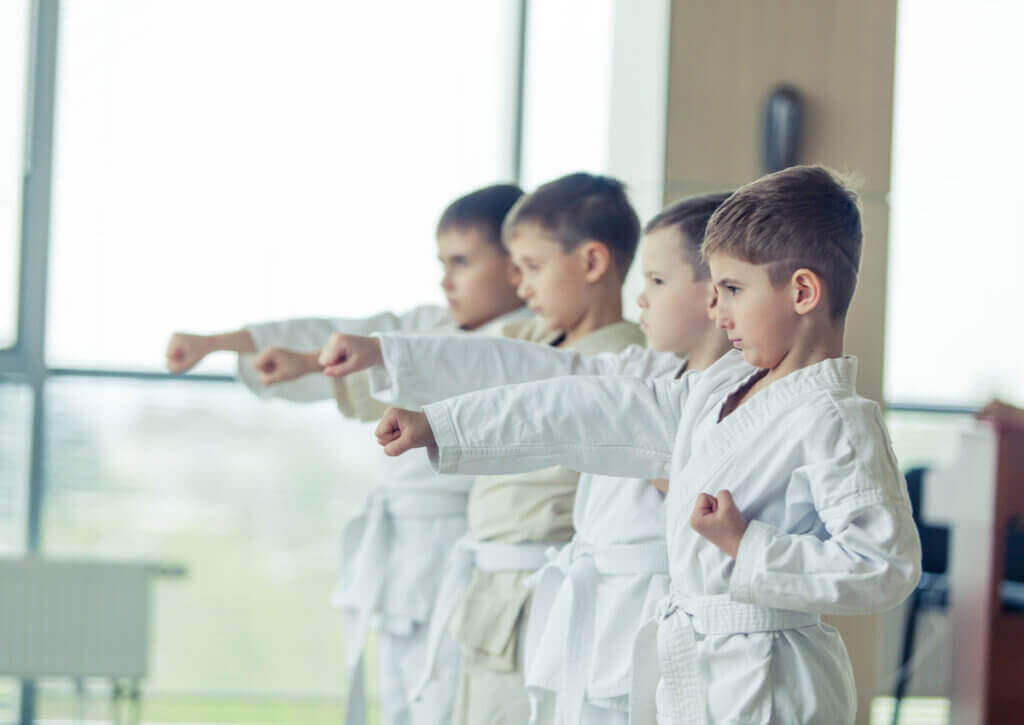 Taekwondo can have a number of benefits for children, particularly with regard to their personal development. As well as being a form of physical exercise, its underlying philosophy helps children to develop both ethically and psychologically.
Taekwondo is a contact sport and was developed as a way to protect oneself against direct attack. However, it can also have many other benefits for both adults and children. In this article, we'll tell you more about how taekwondo can be good for your kids.
Taekwondo in children and adults
Taekwondo can be practiced at any age, but the approach will vary depending on how old you are.
For children, this discipline focuses more on introducing physical activity through play and social interaction. This is because children tend to be more easily distracted, so it's important to make it interesting for them. For teenagers and adults, on the other hand, preparation for competitions will be a larger component.
However, regardless of age, there are always five key elements to taekwondo:
Courtesy (Ye Ui)
Integrity (Yom Chi)
Perseverance (In Nae)
Self-control (Guk Gi)
Indomitable spirit (Baekjul Oolgool)
Benefits of Taekwondo for children
Whilst there are many different benefits of taekwondo for children, the most obvious is for their physical development. However, this discipline also has a well-established philosophy and will help lay down some basic principles for being a good person.
However, with regard to the physical side of things, we've listed some of the specific benefits below.
Improved coordination
This discipline involves constant and repetitive movement, and this can help children develop their coordination, in particular hand-to-eye or leg-to-eye coordination.
This because these movements are carried out with other children and an instructor. The movements are normally based on attack or defense, particularly to block or avoid any kind of strike from an opponent.
Better flexibility
Flexibility is one of the things that we start to lose at an early age. However, it's something that can be worked on in later life.
Taekwondo can help improve your flexibility through various specific exercises. It's also good for strengthening the muscle groups in your arms and legs.
Stronger muscles
There's quite a lot of debate about the suitability of strength training for children. However, it's possible for children to carry out such exercise simply by using their own body weight. This will help contribute to the development of muscle fibers from an early age.
Getting to know their bodies better
One of the biggest benefits of taekwondo for children is that they can get to know their own bodies better. Young children are curious and are constantly learning, and any kind of sport can take advantage of this.
By regularly practicing taekwondo, children can begin to recognize the different parts of their bodies and what they're capable of.
It boosts endurance
Taekwondo is a mixed discipline, meaning that it includes both aerobic and anaerobic elements. Children are particularly well-suited to this type of activity, although they won't be doing it at the same intensity as adults.
Taekwondo for children through play
As we have mentioned previously, the most important thing for any form of physical exercise for children is to grab their attention. Children tend to be a lot less able to focus than adults, so any activity, including sport, needs to be interesting for them.
However, with constant supervision and the use of play and games, taekwondo can be an excellent sport for kids. And, as you can see, if you're able to get your kids hooked, there are a whole load of benefits for them. But ultimately, it should be down to your child to decide. You don't want to become one of those pushy parents making them do something they don't want to!
It might interest you...