Cities with Sports Everywhere
Find out which cities have numerous sporting venues, sports events and games that you can visit.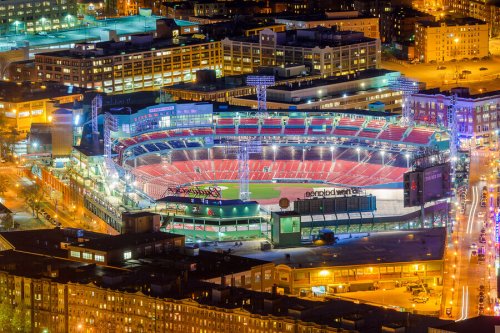 There are cultural cities, historical cities and even cities famous for their architecture. But there are also cities that have sports everywhere you go.
Maybe you watch sports a lot and have a passion for a particular one? And maybe you don't miss a single game and only talk about titles and championships? If this is true, you can't miss getting to know the cities that have sport everywhere. I'll bet you want to know which cities they are? We'll tell you in the following article.
What cities have sports everywhere?
There are super modern stadiums, a general sports culture and even museums dedicated to sports. These cities are perfect for vacations if you're a fan.
1. Boston, US: where sports are everywhere
It doesn't matter if you're a sports fan or not, you'll want to go to Fenway Park, which is the first photo in this article. What's more, Boston is the capital of Massachusetts and is a beautiful city.
You'll be able to see the Boston Bruins, the ice hockey team that's won 6 Stanley Cups. It's also won 4 championships of the conference, 2 Presidential Trophies, and 25 titles in its division.
Even more impressive, Boston is the home of the Celtics. This is one of the basketball teams with the most NBA titles (17) in history. It's also the home of the New English Patriots, which has only lost one playoff in 15 seasons.
2. Buenos Aires, Argentina
Everywhere in this South American country, people are sports fans. That's why its capital is one of the cities where you'll find sports everywhere. We recommend that your venture through Buenos Aires includes tours of two of the most important team stadiums. These are the Boca Juniors and River Plate. Both of these teams have museums and guided tours in case you don't want to go to a game, which you actually don't want to miss.
On the same visit, you can go to the Argentine Polo Field. Polo is an elite sport in Argentina and they're the world leaders. You can also see the Palermo Racetrack from 1876 and the Buenos Aires Lawn Tennis Court from 1892. There is also the Oscar and Juan Gálvez autodrome, which has hosted 20 Formula one races. And, don't miss the Luna Park Stadium, the palace of sports, mainly for boxing.
3. Barcelona, Spain: where sports are everywhere
If you're a soccer or basketball fan and you visit Spain, you can't miss Barcelona. This Catalan city is the venue of one of the most important teams in the world; El Barca. In Nou Field, you can see Messi in action. Moreover, you can enjoy the interactive museum, with access to the dugout or the basketball games.
In Barcelona, there's also an Olympic museum. The location of the 1992 Olympic Games was Montjuic, where you can find the famous Palau Saint Jordi, the Olympic Ring, and the Luis Companys Olympic Stadium. Also, here you'll find the baseball field, the rugby field, and the Municipal Joan Serrahima Stadium.
4. Berlin, Germany
In this German capital there are many options for sports fans with several stadiums to visit. The most important soccer stadium is the House of Hertha of Berlin. The home of basketball is Alba of Berlin.
5. Tokyo, Japan
When we think of baseball, the US or Central America automatically comes to mind. However, we don't think of Japan. Nevertheless, this country is one of the most fervent competitors of baseball.
So, don't be surprised to find several stadiums all over the islands. Of course, all of these have state of the art technology; the Tokyo Dome and the Seibu Dome really stand out.
If you don't like baseball, you can go to a sumo wrestling match. The competitors weigh more than 200 kilos or 441 pounds and try to throw their adversary out of the ring. Surprisingly, this is a custom from 1000 years ago.
Naturally, in Japan, they're constructing super modern stadiums to celebrate the next Olympic games of 2020. If you go to Japan in the middle of the year, you can be there to see the most anticipated events. Or if you visit earlier, you'll be able to visit the venues.
If you look for more cities where sports are everywhere you go, we can recommend Madrid. There you'll find Real Madrid, the Athletico Madrid, and the Zarzuela Racetrack. Also, you can go to London which has at least six soccer stadiums. You'll also find cricket, rugby, and some very important tennis matches listed on the international calendar. So, if you're a sports fan, starting planning your visits to these venues!
It might interest you...