An Analysis of Marc Márquez's Riding Style
If you're a fan of motorcycle riders who take risks, you'll certainly admire Marc Márquez's style!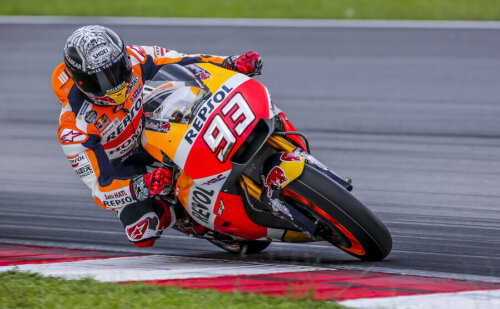 At only 24, this Spaniard has made a place for himself in the history of motorcycling. The Catalan motorcycle road racer has won seven world titles, five in MotoGP, and is currently one of the strongest riders in the premier class. Learn about Marc Márquez's riding style here!
From his beginnings in the 125cc category, Marc Márquez already showed promise. Everyone could see that the teenager from Cervera was going to be the talk of the town after races such as Estoril 2010, where he ended up winning against all odds. An epic victory that let everyone know he was here to stay and had a desire to keep winning.
These spectacular results are the reflection of a unique riding style Márquez has developed during his passage through the different categories of the world championship. Below, we'll analyze the riding style of the current world champion.
An analysis of Marc Márquez's riding style
Marc Márquez is considered one of the riskiest riders out there. This pro from Cervera, Spain is never satisfied and always wants more. Thus, he has an aggressive and unique cornering and braking technique.
His riding style guarantees excitement on the track. For example, the last race of the 2017 season evidenced his flamboyance and aggressiveness. Despite the fact that he was already the world champion, Márquez wanted to win. This made him take too many risks. In fact, he narrowly avoided crashing twice.
This attitude of always wanting more and never giving up is what has led him to have such an impressive track record at his young age.
Drifting, his hallmark riding style
We could say that the secret of his success is drifting. With a way of riding corners that's often more similar to cross than to the MotoGP World Championship, Marc Márquez created his hallmark.
With this riding style, Marc Márquez manages to ride straights really fast until the last few feet to lose as little time as possible when he takes (or pretty much barrels into) corners.
Although this talented motorcycle road racer has always drifted, he's said himself that he's perfected and improved his technique over time. He's achieved this by better controlling his body's movement and taking the weight distribution on his motorcycle into account.
The king of leaning
Race after race, Márquez is the rider who leans the most in curves. In fact, he defied gravity by taking a turn with his bike at a 68-degree angle, the record leaning angle in MotoGP. Márquez spectacularly leans his motorcycle by supporting his knee and elbow. Without a doubt, he's the king of leaning, which also makes him one of the riders with the most exaggerated cornering technique.
Falls: Marc Márquez's weakness
Marc Márquez is one of the fastest riders in the world championship. However, he's also among those who fall the most. In the 2017 season, he fell a total of 27 times. This was a total headache for his mechanics, who were forced to work against the clock. Fortunately, despite how frequently he falls, these falls are rarely serious.
The reason Márquez falls so many times is related to his continuous search for improvement. This Catalan rider always seeks to brake a little later, improve his cornering technique, and be faster at each point of the circuit. Although this attitude leads to falls, it's a risk he's always willing to take.
After conducting this analysis, it's clear that Marc Márquez is one of the strongest motorcycle riders on the grid and that it's very likely he'll continue winning many more championships. He's truly fascinating to watch!
It might interest you...