Wikiloc: The Sports Routes App
If you're attracted to outdoor sports and you're a regular practitioner of this type of discipline, Wikiloc is the app for you. Take a look at the amazing features this app offers you!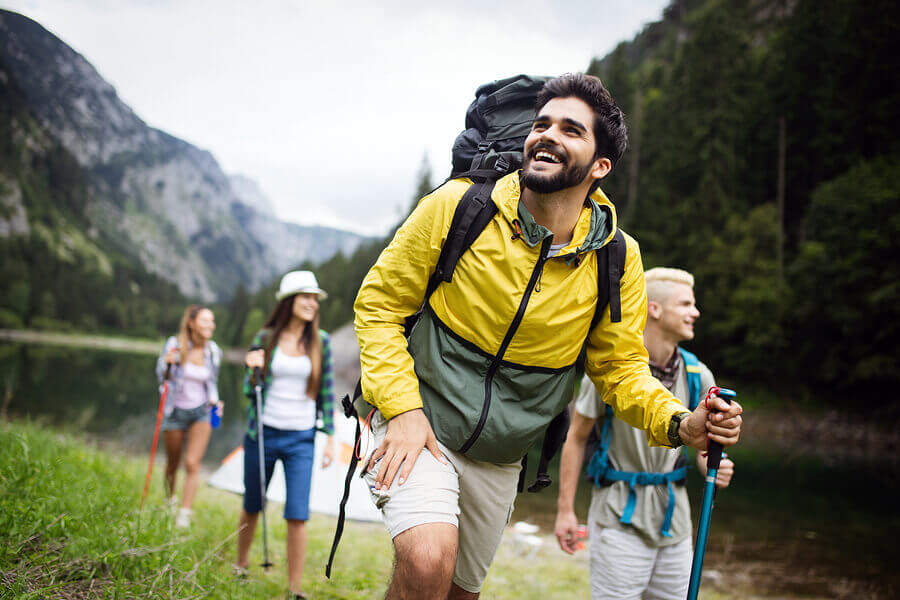 If you're passionate about outdoor sports, Wikiloc is the app for you. In this app, you'll find plenty of hiking routes anywhere in the world. Best of all, it has a practical and completely free version.
In addition, the great feature of Wikiloc is that it's an app created by the users themselves. Anyone can explore the available routes, but also create new ones.
In this way, people help build a database that helps other hikers and athletes from all over the world.  Thanks to the popularity of the application, this database continues to grow day after day.
How does Wikiloc work?
Discover more: City or Mountain Running? Advantages and Disadvantages
The first thing you'll have to do is to download the app on your mobile. Wikiloc is completely free and very light, so you don't have to worry about it using a lot of your phone's memory. Once downloaded, you can access it and discover all its contents.
Main screen
When you open the application, you'll find yourself directly on the main screen. At the top, there's a route finder; if you don't know the names of the places you want to find, nothing happens.
A little further down, are the filters. These filters help you to choose the sport you want to practice, the differences in level, distance or technical difficulty. Wikiloc has such a large database – about 12 million routes – so these filters are a great help.
Right at the top, next to the filters, there's the map. This is the most intuitive way to search for routes. You just have to zoom in on the area where you want to practice a sport and press the search button. In this way, you'll find all the routes that run through that area.
Choose a route
Once you have completed these steps, you choose the route that best suits what you're looking for. By clicking on it, you can access the following information:
Map of the route and points of passage: they'll show you the point where the route begins and ends. In addition, there will be intermediate signaling at points that may be more complex. These are usually crossroads or trail starts.
Profile of the route: the profile consists of a graphic that signals the distance, difficulty, difference in level, and estimated time of completion.
Photos: users can upload their photos from the route, so other users can see in advance a little of the scenery. Besides, these can serve to guide you and not confuse you along the route.
Route information: includes explanations of how to arrive at the point of departure, information of interest or curiosities about the flora and fauna.
Comments and evaluations: once you've made the route, you can include your opinion. These are valuable and improve the explanations of the route or clarify some aspects.
What sports are included in this application?
Wikiloc offers an almost infinite database of routes. Although it's an app mainly used by hikers, the options are much broader.
The main sports that have routes registered in Wikiloc are the following:
Trekking
Mountain biking
Cycling
Mountaineering
Snow rackets
Skiing
Wikiloc premium, the paid version
You might also enjoy: What You Should Avoid When Going Hiking
As we've said before, Wikiloc is a free app. Without paying a single cent, we can enjoy virtually all of the content. However, this app has a paid version too, that extends the functions and offers a safer experience when following different routes.
The services you can access if you pay the annual fee (around 11 dollars) are the following:
Route lists: you can classify the routes in different lists. This function is very useful since you can have the routes grouped by zones or sports modality. Thus, it'll be much easier to access them and follow an order when performing them.
Meteorology: check in a simple and fast way the weather during your route. Being able to have this information without having to leave the app makes it very comfortable.
Search routes by date and user: the premium version offers the possibility of expanding search filters. In addition to all the usual parameters, you'll be able to know on which date the route was created. This is very interesting information, especially in changing terrains in different seasons. You can also search by the name of the person who recorded the route, so you can have 'favorite routers'.
No more ads: advertising is not annoying on Wikiloc because it's not very common. Despite this, it's appreciated that once you have paid for the subscription, it disappears.
Finally, another advantage that we must mention is outdoor navigation. This option allows you to be your own guide in a safe way, as it provides you with a compass and GPS. These are much-appreciated resources for many outdoor activities!
---
---
Wikiloc. Un mundo por explorar. https://es.wikiloc.com/wikiloc/about-us.do
Loyola, J. L. A., Dord, J. M. F., Gil, J. M., & Turmo, A. (1993). Manual de senderismo. Edit. La Librería, España.