SH'BAM: A Fun Way to Exercise
SH'BAM is a workout that's fun and entertaining. You can burn calories and enjoy exercising at the same time. Have you heard of it? Here we'll tell you all about it!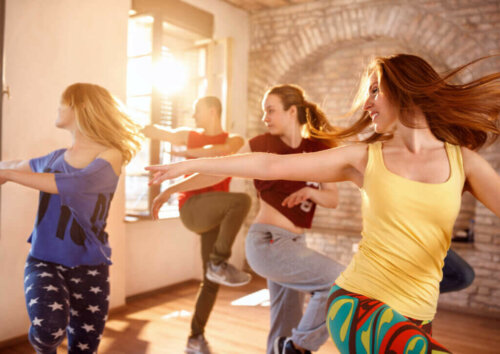 Many people have trouble finding the necessary motivation to exercise regularly. Do you often get bored while exercising? Why not try something different like SH'BAM? It's a new, fun workout that combines moderate-intensity dance moves with music and helps you to burn calories.
This dance workout has a somewhat curious and exotic name for an aerobic class, right? But it's become a huge success worldwide thanks to its unique take on workouts. It's one of the programs from the Les Mills network, which is a New Zealand company. They're one of the world leaders of effective workouts with a twist.
What is SH'BAM?
SH'BAM classes are basically dance workouts and last for 45 minutes. You'll hear around 12 different tracks throughout the class, each one with its own theme and choreography. These routines are put together by the Les Mills company, for their worldwide network of professional instructors.
The workout starts off with some basic exercise moves to warm up. You'll stretch your arms, shoulders, legs, and other muscle groups. After that, the real dancing starts, with moves and combinations to work your whole body out.
Each song will have a combination of rapid dance moves and slower sections for recovery. One of the keys here is the progression: the class starts out with basic moves (explained and shown by the instructor) and progresses to harder, more intense moves. However, each member of the class can choose their own level, where they feel comfortable and are able to keep up the pace for the whole class.
Lastly, the class will go through the stage of stretching and warming down to relax and lower their heart rate. This part has slower music, and the moves are slower and more deliberate.
Each SH'BAM class is unique and fun. They also get you to socialize, since they're group classes. And the best part of all is that almost without even realizing it, you'll be exercising and burning calories. These classes are designed for people of all ages since each person can go at their own pace and intensity level.
To participate, you just need some comfy, loose clothing to be able to move easily. Some good shoes are also a good idea, as well as a bottle of water and a sweat towel. That's all you need!
What are the benefits of SH'BAM?
SH'BAM is music and movement, almost like going to a nightclub with your friends. This 45-minute training system is very simple to get the hang of, and it brings fast results. Of course, you'll get the full benefits if you train two or three times a week and stick to a healthy diet. A professional can advise you on a balanced dietary plan.
According to the Les Mills official website, a participant can burn more than 400 calories at each session. Also, this exercise helps to improve your cardiovascular health. It's based on the interval training system, with some sections of the class that are more intense than others.
Here's another benefit. SH'BAM also helps you to improve your coordination and flexibility of movement. It can also help to strengthen the bones, among other benefits of physical activity that are highlighted in a publication of Merck Manuals.
As we mentioned above, these classes are an ideal activity for those who don't normally exercise. These people might be those who get bored exercising or perhaps those who aren't really attracted by the idea of physical activity.
It's not necessary to do exercise before the class or know how to dance to be able to participate in SH'BAM classes. The idea of the classes is to emphasize freedom of expression by means of the music and the moves. Without a doubt, it's an excellent workout to forget your problems and have fun for a while.
A unique, fun dance workout
Many people might assume that SH'BAM is just another version of Zumba, but actually, there are quite a few differences. Firstly, SH'BAM music is modern and varied, with genres such as dance, Latin music, hip hop, etc. Also, the dances are a little more energetic than in Zumba, which means you can burn more calories without having to be a dance expert.
You could say that SH'BAM is similar to another kind of exercise known as BodyJam. Both have a similar structure to their workout, with choreographies that change every three months, at the same time around the world.
This has the added advantage that if you move to another city, or want to keep training while on vacations, you won't have to miss out on any classes. You'll be able to keep up your exercise routine without hindrance.
If you want to try out a SH'BAM class, you'll see that each person goes at their own pace. Over several classes and weeks, you'll get more confident and will be able to express yourself better and better through the music. If you already work out, you might find that SH'BAM is the perfect complement for your weekly exercise sessions.
It might interest you...