Can You Eat Peanuts to Avoid Anxiety?
Many people eat peanuts to satisfy hunger between meals. However, is eating a lot of peanuts bad? In this article, we'll tell you all you need to know about this topic.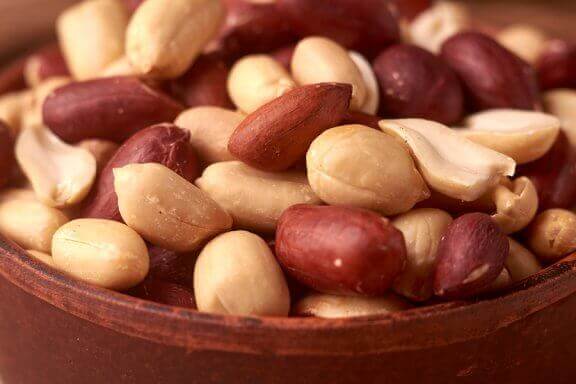 Peanuts are one of the most consumed nuts in the world. They are often consumed in moments of anxiety between meals. However, the question arises, can you eat peanuts to avoid anxiety?
Some people do not eat peanuts because they are hungry, rather, to help calm their anxiety. It's important to define what foods you can eat that will help you feel satisfied without adding extra calories to your diet.
Certainly, peanuts and nuts, in general, are some of the best options if you would like to calm your hunger and anxiety. Have no doubt, if accompanied by healthy habits, peanuts can bring many benefits for people who consume them periodically.
In addition to being full of nutrients that help the body function properly and their power to satisfy, peanuts can also work as the perfect ally to shaving off some extra pounds.
Peanuts are perfect for snacking between meals, they reduce anxiety and provide satisfaction. In other words, they are a great option to prevent you from snacking on unhealthy snack options. However, you should know that peanuts contain many calories so it's advisable to only eat a handful.
Benefits of eating peanuts
Peanuts contain vitamin B, which is essential in the fight against anxiety. Vitamin B has direct effects on the production of neurotransmitters. Peanuts are also rich in tryptophan which produces a relaxing effect making you feel good.
Peanuts also provide the body with protein which is used to build and repair tissues which keep the muscles functioning. Proteins support weight loss and they also help prevent fluctuations in blood sugar which could lead to feelings of hunger. In addition, peanuts contain components that are important to the production of hormones and enzymes.
The fiber that peanuts contain plays an important role in reducing levels of cholesterol and maintaining a healthy digestive tract. Since fiber absorbs water in your stomach, it will leave you satisfied.
However, you must also keep in mind that peanuts contain a lot of calories, and some varieties contain sodium and saturated fats too. Eating too much of these varieties can have adverse effects on your health.
A great ally to overcome anxiety
Peanuts are the perfect example of a food that can be a great help in overcoming anxiety. In fact, peanuts form part of many healthy reprices that are useful in satisfying hunger.
Keep in mind that peanuts contain traces of vitamin E and manganese, two antioxidants that your body uses to prevent cell damage. Vitamin E also promotes the communication between cells and tissues while manganese plays an important role when it comes to metabolism.
Balance is the key
Peanuts are a food that helps to stimulate metabolism, therefore they can promote weight loss. However, we must emphasize that you should limit your portion sizes in order to lose weight efficiently.
One of the biggest challenges when it comes to eating peanuts is restricting portions. As we have said repeatedly, the key to losing weight is to exercise and stick to a balanced diet.

As you can see, peanuts can be the ideal snack to overcome anxiety, however, they should always be eaten in moderation. Despite it being a snack to calm the nerves and lose weight, they also contain a lot of calories. Try to take advantages of the numerous benefits that peanuts provide by including them in your daily diet.

It might interest you...

"]