Four Amazing Cheese Salad Recipes
Cheese is a very complete food that is the star ingredient in any cheese salad recipe.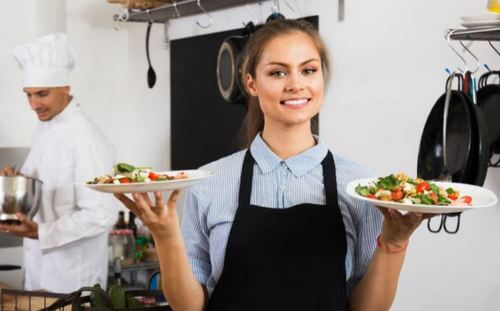 Cheese salad recipes have become all the rage in low-fat diets. This combination lets you add a little protein to your vegetables. While it's not enough to make you gain weight, it does enhance your green dishes like no other food can.
Best of all, there are many recipes to choose from with countless varieties of cheeses and vegetables. A world of flavor will open up to those who are looking to follow a healthy and natural diet.
With this in mind, we've put together a few cheese salad recipes that both adults and children are sure to enjoy.
Tomato and fresh cheese salad
Ingredients:
2 Roma tomatoes, preferably peeled
2 ounces of white creamy cheese
Parsley
1 tablespoon of sesame seeds
Oil
Salt
Preparation:
Firstly, chop the tomato into medium-sized pieces. The tomato pieces should be big enough to give the salad the right consistency.
Then, cut the cheese into similarly sized pieces and add them to the tomatoes.
Finely chop the parsley and top the cheese and tomato with it, along with the sesame seeds.
Finally, add oil and salt to taste.
Arugula and olive protein salad
Ingredients:
1 bunch of arugula
Half a small head of lettuce
3.5 ounces of soft cheese
1 hard boiled egg
10 black olives
Baked or fried bread croutons
Half a tablespoon of lemon juice
Half a tablespoon of vinegar
1 tablespoon of honey
2 tablespoons of olive oil
Salt
Preparation:
Before beginning, boil the egg for 10 minutes and leave it to cool for later.
Then, chop the egg, cheese, and olives.
Put the lettuce and arugula in a bowl and mix them together.
Then, put the croutons on top and mix everything until combined.
Finally, prepare the dressing in a cup. Combine the vinegar, lemon juice, honey, and olive oil. Then, before pouring it onto the salad, make sure to mix the ingredients well.
Beet, walnuts, and blue cheese salad
This is a salad with a strong cheese that few are familiar with. The mixture seems very extravagant but the flavors blend together very well. This salad's ingredients are sure to give you an energy boost.
Ingredients:
6 beets
7 ounces of blue cheese
3.5 ounces of nuts
Olive oil
Salt
Preparation:
Firstly, separate the leaves from the beets' stalks. Then, wash them thoroughly and wring them out, especially if they have dust or dirt on them.
Boil the beets until soft. This can take a long time; as such, boil them long before mealtime.
Let the beets cool and peel them. Then, place them in a bowl along with the salt and olive oil.
Finally, break up the nuts and blue cheese into pieces, with your hands. Place everything on the beets.
Mushroom and cheese salad
Ingredients:
3.5 ounces of mushrooms
2 strips of smoked bacon
2 tablespoons grated cheese
1 tablespoon of chopped chives
2 tablespoons of olive oil
2 tablespoons of lemon
Pepper
Salt
Preparation:
Firstly, wash and rinse the mushrooms. If their stems are dirty, discard them.
Then, dry the mushrooms and peel them.
Fry the smoked bacon in a pan with oil. Cook them until they're golden and their fat is no longer visible.
Then, cut the mushrooms into fine slices. Next, season with olive oil, lemon juice, pepper, and salt. Make sure to mix everything well.
Then, put the mushrooms and bacon strips in a bowl.
Finally, add the chives and grated cheese.
In conclusion, we hope that you'll enjoy the delicious cheese salad recipes that we've mentioned in this article. The best thing about mixing cheese with vegetables is that it goes well with just about anything. In addition, you can definitely play around with new ideas and ingredients.
It might interest you...