Recipes for Oatmeal Protein Pancakes
Here we'll show you a couple of recipes for oatmeal protein pancakes. You could make them with different ingredients to the ones we suggest, provided that they're healthy ones. Still, the main ingredient for these recipes are oats.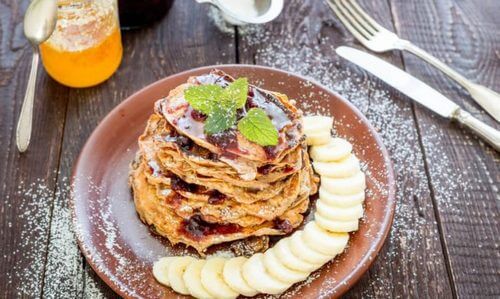 Oats are high-protein cereal grains that are also packed with vitamins and unsaturated fat. More specifically, it's the grain with the highest concentration of vitamins and minerals. As such, oatmeal protein pancakes are beneficial to your health and anyone can eat them in a variety of ways. Discover two recipes to make your own oatmeal protein pancakes.
Oatmeal protein pancakes with chocolate
Ingredients for eight pancakes:
3.5 ounces of oat flour
6.5 ounces of yogurt
2 ounces of chocolate flakes
2 tablespoons of yeast
¼ teaspoon of salt
½ tablespoon of cinnamon
1 tablespoon of vanilla extract
1 tablespoon of honey
Half a pint of milk
1 egg
Drizzle of oil
Method:
Begin by choosing a bowl that's big enough to mix the oat flour, yeast, salt, and cinnamon. Take another bowl and mix the yogurt, egg, milk, honey, and vanilla extract.
Once mixed together, add the wet ingredients to the dry ones, and mix until well combined. Then, add the chocolate flakes and keep mixing.
If your mixture is very thick, simply add a little more milk, until you've reached the desired consistency. Next, spray a fine mist of oil in a pan, to lightly grease it.
Add a little of the mixture to the pan to cover the surface. Let it cook for about four minutes until it bubbles; then turn it over and let it cook for about another minute.
Repeat until you've used all of the mixture, and you now have oatmeal protein pancakes with chocolate. If you have a sweet tooth, you can serve them with chocolate syrup on top.
Whole wheat oatmeal protein pancakes
Ingredients for eight pancakes:
3.5 ounces of whole wheat flour
1.4 ounces of oats
2.3 ounces of non-fat yogurt
Half a pint of milk
¼ teaspoon of salt
2 tablespoons of yeast
1 tablespoon of ground cinnamon
1 egg white
2 tablespoons of brown sugar
1 tablespoon of vanilla extract
½ cup of fruit or chocolate flakes
Method:
Start by mixing the whole wheat flour, oat flakes, yeast, and cinnamon in a large bowl and put aside. In another bowl, beat the egg white with the milk; then, add the brown sugar and yogurt. Mix until well combined.
Add the vanilla and keep mixing. Then, as with the previous recipe, mix the liquid ingredients with the dry ones, until the mixture is not too hard and not too dense.
Lightly grease a pan or griddle and heat it. Once it's hot enough, pour the mixture to cover the pan's surface and cook for about two minutes. Then, flip it over and cook for another two minutes.
Once you've used up all of the mixture, you'll have whole wheat oatmeal protein pancakes that are ready to serve. It's always best to eat them immediately, although you can store them in the freezer for up to two months.
In conclusion, oats are beneficial for your body. As such, you can and should use them in as many different recipes as possible. In this article, we explained how to make oatmeal protein pancakes, with either chocolate or whole wheat flour for healthier options. Still, there are countless other ingredients that you can add to these cereal grains.
It might interest you...