Exercise Apps: The Best Options for Working Out at the Gym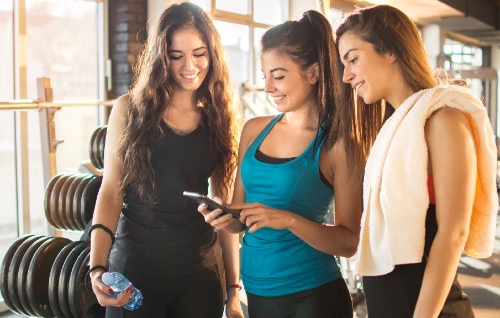 When you start working out at the gym, a lack of basic exercise knowledge can lead to you repeating the same routines over and over. This is where exercise apps come in.
Repetition can lead to boredom and discouraging feelings about continuing. Don't worry: there are plenty of exercise apps that can liven up your routine and help you to live a healthy lifestyle. In this article, we'll take a look at some of the best exercise apps out there.
What are exercise apps?
We all know that the Internet can provide solutions to pretty much anything we can think of. This is also true for working out. While there are apps that teach you a variety of exercises that you can do at home without equipment, there are also ones that show you techniques that you can use at the gym.
These gym-friendly apps normally include charts to show you the amount of calories that you're burning and your heart rate. This will make it easier to achieve your goals.
The best gym apps
Seven
This app challenges you to do a daily seven-minute routine, for seven straight months. This will lead to fast results. These intense exercises require a considerable amount of endurance and are somewhat difficult. However, if you keep at it consistently and enthusiastically, you'll get better every day.
Additional help comes in the form of a 3-D interactive guide, to show you how to do the exercises properly.
Virtua Gym
This app offers 500 different exercises, some of which you can do at the gym, and others that you can do at home. Even if you're on vacation or taking a break from the gym, you can still maintain your workout regimen with the help of this app.
So that you can keep track of your daily goals, the app features graphs that show the results you achieved with each workout.
Daily Butt Workout
This app focuses on some of the most difficult body parts to shape and tone: the glutes and legs. This difficulty stems from factors, such as the thighs being the largest muscles in the body. As such, the exercise needed to slim and tone them requires more exertion than with other muscle groups.
This app deals with this issue directly. In just five minutes each day, you can tone this part of the body using videos and explanations that will help you to perform the exercises perfectly.
Fitness Point
This is one of the best gym workout apps thanks to its virtual trainer, who describes the exercises step by step. The trainer also evaluates your progress and sets new goals for you.
Endomondo
In addition to using it at the gym, you can also use this while you walk, run, row, or skate. It will help you to keep track of your heart rate, the distance you traveled, the calories you burned, and other personal records.
Entrenamientos de Abdominales (Sit-up Workouts)
Doing sit-ups can be one of the most boring parts of a workout, especially if you don't know enough about the proper technique. With this Spanish-language app, you'll learn different ways of doing sit-ups so that you can improve your routine. You can do them at home or at the gym, working different muscle groups in this area in order to get the six-pack that you've been dreaming of.
Fifstar
Enter your information and the app will create a series of exercises adapted to you and your endurance level. It will also gradually increase the level of difficulty so that your endurance improves as well.
Excited to try some of these exercise apps for the gym? Keep in mind that the right one can help you to get the results you've been looking for. Check them out and choose one that's right for you.
It might interest you...