Powerball Exercises
It's one of the technological developments in physiotherapy! Powerball helps you train, strengthen and encourage the rehabilitation of different parts of the body in a very effective way. It's a wonderful exercise that you can do anywhere.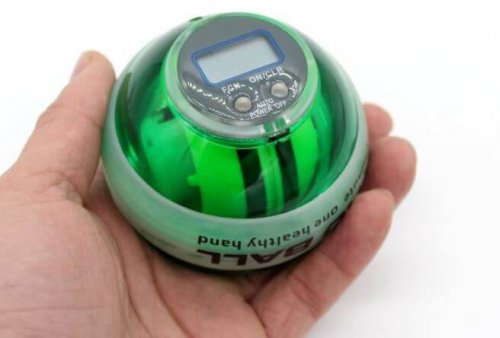 In the field of kinesiology and physiotherapy, there's a new beneficial method to recover and strengthen the muscles. Powerball exercises are a practical and easy way to work out any part of your body from your shoulders to your fingers.
A Powerball is a spherical tool the size of a tennis ball with a gyroscope inside. If you try to make a movement with it, the gyroscope will give proportionally opposite resistance to the movement, so the force required to keep the movement going will increase progressively.
Benefits of using Powerballs
Both in the field of physiotherapy and fitness, Powerballs offer awesome benefits to our health. Among them we have:
Increased muscle strength.
Increased muscle resistance and stability.
Powerballs stimulate brain connections to create quick responses to the required movements.
And finally, they're efficient: just a couple of minutes every day will bring you amazing results.
How to hold them
You must hold the Powerball at the center of the palm of your hand, using all your fingers except the little finger, which is placed underneath to support the ball.
Powerball exercises
This tool is ideal to train the muscles in the arms. So, from your fingers to your shoulders, including the wrists, forearms, and elbows, your body will feel the benefits of Powerball exercises. Here are some exercises that you can do with it:
1. Moderate speed rotation
Like all Powerball exercises, this one consists of making the ball spin in one direction. Speed must be slow to medium, which will allow the workout to keep going for longer.
Ideally, you must perform this exercise for 1 to 3 minutes on each hand, alternating after each set. The longer you keep going, the better, but endurance will depend on the physical condition of each person. It's better to progressively increase the duration.
2. Strength and endurance exercises
Ideal for those who play tennis, golf, for climbers and cyclists, among others. This exercise is about making the ball spin a bit faster than the initial speed and trying to maintain the rhythm for as long as possible.
The increasing resistance offered by this tool will also increase the load over the muscle. At the same time, endurance and stability of the muscles during tiring situations will eventually be greater.
Many sports depend on what we're able to do with our arms. That's why Powerball exercises are extremely useful in these cases.
3. Rehabilitation exercises
An alternative use for the Powerball suggests a different type of grip to relieve carpal tunnel syndrome.
Firstly, you must hold the ball with your fingertips looking down. The palm of your hand must form a 90- degree angle with respect to the forearm and rotation must be slow and steady.
Also, to relieve pain from tennis elbow, you can rub the Powerball over your forearm.
4. Powerball exercises monthly plan
The official company that produces these balls provides a weekly routine on their website. Each week you must do exercises that progressively improve endurance. Here's the routine:
Week 1: 3 sets of 30 seconds with each hand, alternately. You must rest for one minute between sets. Also, do try to use it on alternate days.
Week 2: 3 sets of 30 seconds with each hand, with 1-minute breaks, every day of the week.
Week 3: 3 sets of 60 seconds with each hand. Again, do this on alternate days.
Week 4: just like the first 15 days, repeat week 3 but every day.
5. Strengthening and rehabilitation for shoulders
These exercises consist of performing the usual movement with the Powerball but with your arm raised slightly over your head. Certainly, this is useful to strengthen the area and recover the endurance and toning lost.
6. Prevention of injury due to ongoing strain
As small as they seem, the required movements to operate keyboards and mouses can cause injury due to overuse and stress. So, gaining strength and resistance, and exercising arm muscles regularly can be a great alternative to prevent those injuries.
Muscles of the forearm become overloaded with use and cause swelling in the tendons or cause pain with the movement of the hand or fingers. Likewise, those muscles may suffer from carpal tunnel syndrome. It's been scientifically proven that powerballs and associated exercises can prevent and relieve the symptoms. 
The benefits of these small spherical tools are numerous and very important. If your doctor approves, you should definitely add them to your routine. For example, you may use it as you travel or during work; it won't take any time away from your routine!
It might interest you...