Running Regularly: Six Tricks to Get Started
Running regularly offers a variety of benefits. It reduces the risk of cardiovascular disease, releases endorphins, and promotes weight loss.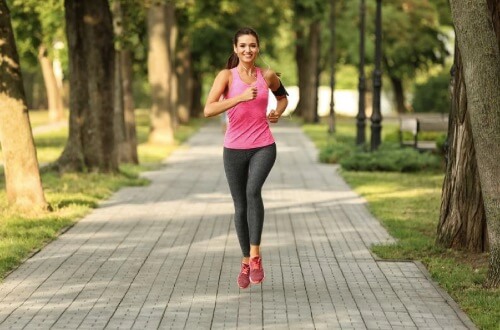 Running is much more than a physical activity. It's a way of connecting yourself with your surroundings. Taking on the challenge of running regularly will make a real change in how you develop both physically and mentally.
Running is a locomotive activity that allows humans and animals to move as fast as they can. Our ancestors developed this ability long ago for the purpose of hunting animals. Today, running is considered one of the most accessible sports.
If you want to benefit from everything that running regularly has to offer, we have six tricks to help you. This way, you'll start off on the right foot and avoid beginner's mistakes.
1. Step by step
At first, running may seem like an exciting challenge. However, it's important to start with short intervals and avoid running at full speed the whole way through. In other words, alternate running with walking and jogging. Jogging and walking will allow you to catch your breath while still moving. Eventually, you'll develop more endurance.
The best plan is to start running as naturally as possible, without expectations. This way, you'll learn that it takes time and effort to practice this sport. It will also prevent you from becoming discouraged.
2. Running regularly: what you need
You don't need a lot of equipment to get started, just comfortable clothing and the correct footwear. While these may seem like simple things, they are highly important. You can't run in just any pair of shoes! You need appropriate sneakers that provide foot support. You also need to wear socks in order to avoid blisters and chafing.
There are other important elements to consider too. For example, choose clothing that allows for movement and suits the climate you're running in. Meanwhile, people with knee issues should wear braces. You should also have a cell phone sleeve to keep your hands free.
3. Eat right
Just as what you wear is an important aspect of running, what you eat is just as vital. One of the most common mistakes that people make, is running on an empty stomach. You should eat a snack that provides you with energy at least one hour before you start running.
In addition, you should also have a snack 15 minutes before and after running. This will help to stabilize your blood sugar levels, and prevent muscle pains and spasms. You should also hydrate before, during, and after running.
4. Don't go too fast
You should allow your body to become accustomed to running. For this reason, don't run as though you're running a race. If you run too fast, you're likely to suffer aches and pains, and even risk injury. As such, you should run at a reasonable speed, and gradually increase your pace as your endurance improves.
5. Warm up and stretch
All physical activity requires a warm-up. When warming up, the body prepares for exercise, thus preventing injuries, muscle cramps, and muscle stiffness. Before you begin running, do an energetic warm-up to wake up your muscles. When you're finished running, stretch in order to oxygenate your muscles and stabilize your heart rate.
6. Get as much rest as much as you need
Your cardiovascular system and muscles need to get used to this sport. It doesn't happen overnight! As such, don't worry if all you want to do is rest the day after you start. It's perfectly normal and necessary for the body to recuperate following physical activity. Start by scheduling one day of exercise, followed by one day of rest, so that your body can adapt.
Applying these tips will improve your performance when you begin running regularly. It will also reduce the likelihood of putting your health at risk. Don't give up! Once you've started you'll learn what you're capable of achieving. You'll also enjoy the many benefits this sport has to offer. On your mark, get set, go!
It might interest you...