How to Face New Sports Challenges
Athletes must face new sports challenges to continue growing and acquiring skills. Although these challenges can make them doubt themselves, the only option is to face them. In this article, discover how to do it!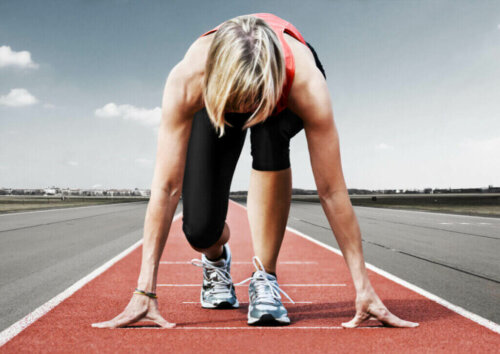 Facing new sports challenges can be quite an adventure for athletes. This is because challenges put people's physical and psychological abilities to the test. In addition, it takes a lot of discipline and commitment to overcome them.
An athlete will have to face many sports challenges throughout their career. They can be either positive or negative situations, such as training to qualify for the Olympics or, on the other hand, having to recover from an injury.
Regardless of whether the challenge is more or less pleasant, an athlete can't be passive and simply wait for it to solve itself. They have to have a proactive attitude and be brave, as that's the only way they'll continue growing and avoid stagnation.
There are appropriate ways to face these challenges that can maximize your chances of overcoming them. Below, we'll tell you how to face new sports challenges.
Boost your self-confidence
A self-confident person believes that they're capable of solving a specific situation. Therefore, the more self-confident you are, the more effort you'll make, and the more motivated you'll be to face new challenges.
But you need more than self-confidence to overcome any challenge. In fact, you also have to make an action plan. The psychological technique of self-instruction training, which consists of using self-statements to direct or self-regulate behaviors and thoughts, is effective both in building self-confidence and in developing this plan.
According to an article that was published in the journal Cognitive Behaviour Therapy, this technique has proven effective beyond the sports field. In fact, it can also be used in clinical and educational settings. In addition, it works equally well in both children and adults.
Look for role models when you have to face new sports challenges
It's normal for you to not know what to do or doubt your future when you face a new challenge. One way to avoid this is to study people who've experienced a similar situation.
In uncertain situations, people tend to orient themselves towards others. Thus, the company, even from people they don't know, allows them to know how to react to new situations.
On the other hand, looking for role models can also help steady your nerves when you have to face a new challenge. Realizing that other people have been in and overcame the same situation leads to a sense of tranquility and security.
Experiment with alternatives through trial and error
New sports challenges require athletes to test their abilities, modify them, and adapt to new situations. Also, they demand them to acquire specific new skills.
Practice and experience allow you to acquire new skills. In this regard, it's important to differentiate between explicit knowledge, which is learned by reading or listening to professionals, and implicit knowledge, which is learned through experience and is automatic. Thus, it can't be verbalized.
The best way to acquire implicit knowledge is through trial and error. As its name suggests, it consists of trying solutions and observing their consequences. The best solution to a given situation is the correct one.
Harness the power of meditation
Meditation is a powerful activity that can benefit the mind in many ways. Although some people consider it mystical and religious, the truth is that the psychological benefits of meditation are tangible. In fact, they can be applied to any situation, whether new or familiar.
Broadly speaking, meditation consists of directing your attention to yourself and ignoring your environment for a moment. This approach can help you organize your thoughts and focus on what's relevant to making decisions.
New sports challenges require athletes to be prepared to make decisions at any time. Meditating regularly is the best way to be successful in this process.
Fear is the worst obstacle to facing new sports challenges
It isn't easy to overcome new situations, which is why it's completely normal for fear and doubts to appear. However, you can't let fear paralyze you. The difference between successful and unsuccessful people lies mainly in the attitude they choose to face and overcome obstacles and challenges.
New sports challenges can lead athletes to experience new opportunities. Although it might seem tempting to stay in your comfort zone, you shouldn't consider new situations threatening. Remember that changes are an essential part of life. No matter how hard you work to avoid them, new challenges will always appear.
It might interest you...