What Are The Different Motorsports?
Motorsports are sports where a motorized vehicle is necessary to participate. They're divided into four main categories, and then into various different sports.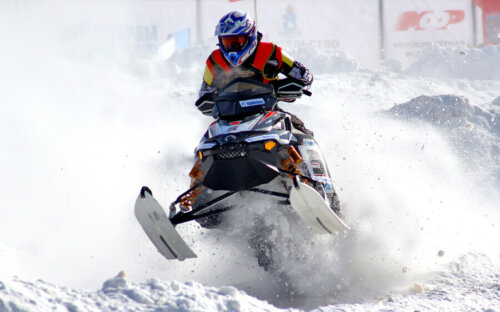 As the name indicates, motorsports are those that primarily involve the use of motorized vehicles. The best known are car racing and motorbike racing, although there are other broad groups as well. We'll tell you all about them in this article.
The four main groups of motorsports
Within the banner of motorsports, we find four large categories, which in turn, are divided into different sports depending on the vehicle they use. These main groups are:
1. Car racing
It's one of the best-known motorsports, and the vehicles are cars or trucks specially designed for competitions or races.
Within the various car racing sports, you can find speed competitions, which are usually on sealed surfaces (race tracks or roads). Their objective is usually to make it around the track or circuit a certain number of times in the least time possible. Formula One racing is the fastest category of car racing.
Another very famous type of car race is off-road racing. The best known off-road race is the Dakar Rally. It's a competition that takes place in off-road environments, on natural surfaces such as earth, desert, or mountains, although it may include asphalt circuits as well.
Some other four-wheeled racing sports are auto slalom, drifting, rally raid, rallycross, drag racing, and kart racing.
2. Motorbike racing
This is the motorsports category with the greatest number of different sports. In all of the sports, a motorbike is used to compete. Road racing is the best known and takes place on sealed surfaces or circuits, with a distance of at least 400 meters. Moto GP is the premier category of all motorbike road racing competitions.
Another principal motorbike sport is motocross, an all-terrain competition that takes place on closed circuits. It's extremely tough on the drivers and is a real test of their physical condition. There are various cutthroat international competitions, such as the AMA Grand National Championship of the US and the British Motocross Championship.
Within the banner of motorbike racing, we can't leave out enduro racing, an off-road type cross country competition, with timed stages. The average speed of the motorbikes is between 28 and 34 miles per hour in this sport.
The biggest competition is the World Enduro Championship, which started in 1990. Another significant event is the International Six Days Enduro, celebrated since 1913.
Some other motorbike sports are superbike racing, endurocross, speedway, supermoto, super quad (using quad bikes), snowcross (using snowmobiles, see opening image), and freestyle (using any of these three vehicles).
3. Motorboat racing
This is another category of motorsports and can be done with jet skis or speedboats. Motorboat racing can be at high speed on the open sea, an endurance race, or a speed race close to shore. There are also rally or dragster races (over short distances).
The history of motorboat racing as we know it today started in 1898 in France, and during the first couple of the Olympic Games, in 1900 and 1908 to be precise. The Union Internationale Motonautique, which is the international governing body of powerboating, started in 1922. In 1938 they held the first world championship.
Here are some of the many types of motorboat competitions. Inshore powerboat racing takes place on lakes and rivers and is the highest level of motorboat competitions. Offshore powerboat racing on the open sea has six grand premiers: Malta, Germany, Italy, the Mediterranean, England, and Portugal.
Then we also have endurance racing (a 24-hour circuit boat race in Rouen, France). Motorboat rallies and drag boat racing (at speeds of over 250 miles per hour and over a distance of a quarter-mile) are also popular.
4. Motorsports: air racing
The last type of motorsport is air racing. It includes a few types of airplanes or other aircraft. One type of air competition involves doing aerobatics or stunts. Pilots participating in this sport can use either piston-powered single-engine airplanes or gliders.
Aerobatics is a sport that has judges, who are in charge of evaluating the flying ability of the competing pilots. There are different categories according to the level of difficulty: primary, sportsman, intermediate, advanced, and unlimited.
Within each category, the pilot can fly with one or more flight programs. These are known, free, unknown, or four minutes free. The scoring system is based on adding or subtracting points according to the successes or faults the pilot commits. For instance, pilots may do a wing fall, a loop, an eight, or other types of maneuvers.
We hope you've enjoyed this brief review of the different motorsports. As you can see, there are four broad categories, each with many variations. Do you have a favorite?
It might interest you...