Benfica and Porto: How Two Soccer Stars Were Born
The Sport Lisboa e Benfica and the FC Oporto (Benfica and Porto) are the maximum referents of Portuguese soccer. Besides their country of birth, they've another fact in common: they've both nurtured some of the most famous soccer stars on the continent. What are the details of their transfer plans?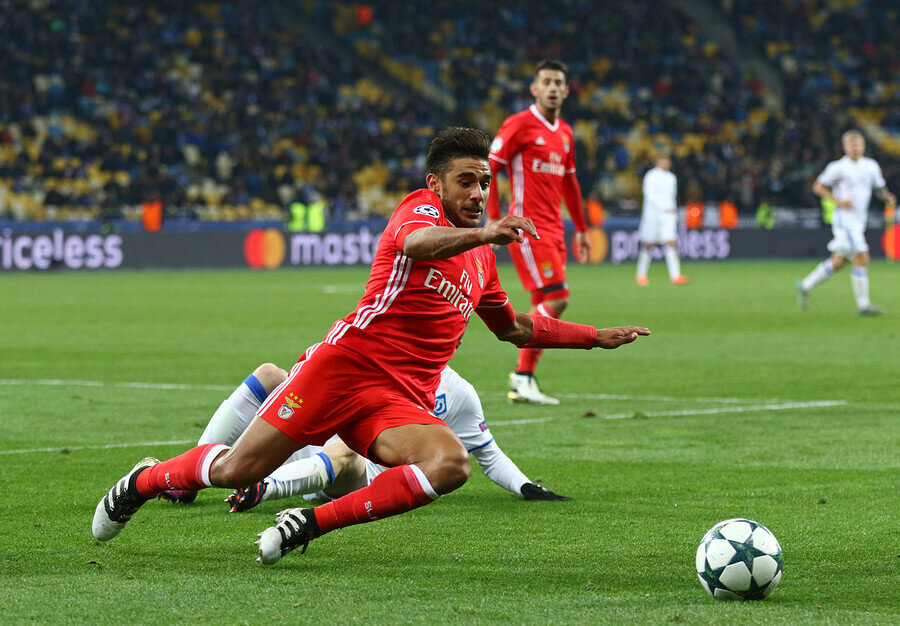 The two largest soccer clubs in Portugal stand out for their ability to detect new talents. On top of that, they not only do it on a local level but also all around the world. In today's article, we'll see how the Sport Lisboa e Benfica and the FC Oporto (Benfica and Porto) have made millions.
What's their secret? Selling trained players that ultimately become giants in the European soccer world. Here's everything you need to know!
The Benfica and Porto teams have become key in jumpstarting the career of plenty of non-European players. Portuguese, South American, North American and African players have entered some of the greatest soccer clubs in Europe.
This is because both Benfica and Porto have a unique strategy that detects young talent. Because they're unable to compete economically with the Spanish or English dynasties, they've succeeded in other ways.
Benfica and Porto: the platform to success in Europe
Gone are the days when players stayed with local or national clubs throughout their careers. Nowadays, most players start out at a local club with the aspiration to one day be part of the larger, more powerful associations.
Because of this, in soccer, there are two main types of clubs according to where their players come from. There are the so-called "export clubs" where players are selected to go to "import clubs" after a lengthy negotiation process.
Export clubs are mainly Americans, Asians, and Africans. On the other hand, importers are mostly European. Of course, in recent years some American and Chinese clubs became key importers in the soccer market.
The Benfica and Porto clubs are a midpoint between import and export clubs. For years they've imported players from America, generally for amounts less than 10 or 15 million euros. Then, they train the players and allow them to adapt to soccer and European life.
Once the players become familiar with this lifestyle, they attract the attention of the most powerful teams. And that's when the export facet of Portuguese clubs goes into action.
By following this path, players who decide to enter European soccer succeed in the most competitive leagues after choosing Benfica and Porto as their first experience.
The high success rate of this strategy is due to a combination of factors that make it not only viable for all parties but also very convenient. It also boosts the player's ability to thrive, given that they're already used to European soccer dynamics.
Why Benfica and Porto?
In the first place, it's worth clarifying that, even though they don't have the economic power of Real Madrid, Manchester City or Paris Saint Germain, both of these Portuguese clubs have more resources than most South Americans. Because of this, both clubs can make investments to sign Argentinian or Brazilian team figures without problems.
In addition to having more resources, the Portuguese soccer league – called Primeira Liga – offers a very good competitive level. This is a great "starter league" for players new to the European soccer scene, as it offers an ideal opportunity for players to show off before the great teams of the continent.
And last but not least, it's obvious that both Porto and Lisbon are very beautiful cities to live in. Plus the Portuguese language doesn't imply a great obstacle for most Latino soccer players.
The strategy of Benfica and Porto
Like almost every career plan, the tactics of these Portuguese clubs are suitable for some and unsuitable for others.
Some critics state that the strategy is unnecessarily costly. This is because clubs sell players for much more than their actual value represented by their "useful life" as active players.
On the other hand, there are those who think that this is a fair practice for everyone involved. Many connoisseurs argue that the strategy works because of the deep inequalities among clubs in Europe. In this sense, for a player, it's very difficult to proceed from an unknown club in a third-world country to a giant European club. Because of this, in most cases opting for institutional growth is the best possible way out for players.
In addition, experts say that this practice also helps the growth of the domestic league. Regardless of the fact that Porto and Benfica shared the winning title for the past 16 years, their strategy has boosted the Portuguese league. Only Sporting de Lisboa (Sporting Lisbon) has been able to break this hegemony, but a long time ago.
The merits of this buying and selling practice are, at least, debatable in this regard.
In short, everything depends on our position on this subject. As with many things, there are some pros and cons. Although from the sporting point of view things could go better internationally, the picture is really complex even for more powerful clubs, such as the Chelsea, Arsenal, AC Milan, Inter Milan, and even Bayern Munich.
Some iconic cases
On the Porto side, Pepe, Radamel Falcao García, James Rodríguez, and even Mourinho started their successful European trajectories in this club. The striking thing is that both Falcao and James were a good deal. In this sense, they were sold for figures that multiplied several times what they'd paid to their original clubs. It was a great deal for both parties!
However, Benfica is not far behind Porto when it comes to successful transactions. Ángel Di María, Ramires, Nemanja Matic, and Joao Félix – recently sold to Atlético de Madrid for 126 million euros – are the most glaring cases.
In short, both the Benfica and Porto have been able to implement an effective growth plan . This growth is based on the consolidation of potential stars. Although the results haven't always been reflected on the field, it's clear that both clubs show great improvement. Not only that, but players from all over the world are reaping the benefits of this strategy as well!
It might interest you...