Dani Alves, the Most Decorated Soccer Player in the World
When we're talking about decorated soccer players, it's impossible not to think of the name Dani Alves. The Brazilian is the most decorated soccer player in history.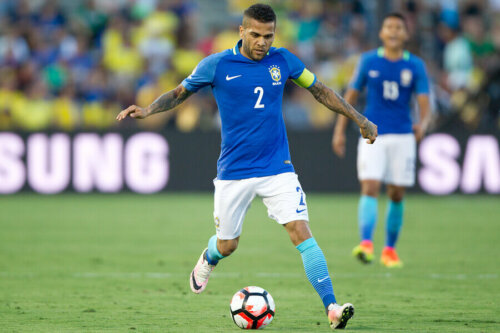 Daniel Samuel Alves da Silva, better known by all as Dani Alves, has come to be a by-word in international soccer over the last decade. Playing with the classic style of Brazilian defenders, he's been a decisive factor in many conquests by his teams. He's currently the most decorated soccer player in the world, having won the most titles of any player.
Of course, it's true that Dani Alves has almost always played for top-level teams. It's also true that his national team is one of the most powerful in the world. That, in a way, makes winning titles easier.
However, if you carefully review his role in all of those winning teams, you'll see that he really has had a lot to do with their victories. Dani Alves is not only a world-class defender, but he's also excellent in offense and is a model for his teammates on the field.
The playing style of Dani Alves
Dani Alves plays as a right-back, but this position isn't limited exclusively to defending, although of course, he's exceptional at that. Really, his technique makes him a very important part of his team's offense. His methods also favor the surprise effect of his arrival from behind.
During his placement with Barcelona (2008 to 2016), his partnership with Lionel Messi became characteristic. In fact, the Argentinian player found Dani Alves to be the perfect partner, always free to receive and with a fabulous kick to help him out in many different ways.
Dani Alves' titles
This Brazilian star's international record is headed, of course, by the three UEFA Champions League titles he won playing with Barcelona, in 2009, 2011, and 2015. With Barcelona, he also won six league titles.
He also played for Bahia in Brazil, Sevilla in Spain, Juventus in Italy, and Paris Saint Germain in France. During this journey, he obtained the following titles:
Copa del Rey: he won one with Sevilla and four with Barcelona.
Supercopa de España: again, Alves won one with the Andalusian side and four wearing the blue and red shirt.
UEFA Europa League: he won two titles during his time with Sevilla, in 2005-2006 and 2006-2007.
European Super Cup: Alves won one title with Sevilla and three with Barcelona.
FIFA Club World Cup: he won three, all playing with Barcelona.
Serie A: he received the title with Juventus in 2016-2017.
Copa Italiana: achieved the Italian double in the same season.
Ligue 1: played two seasons with Paris Saint Germain, winning titles both seasons in 2017-2018 and 2018-2019.
Coupe de France: won the 2017-2018 edition.
French Super Cup: Alves was also the two-time champion in his two-year stint at PSG.
French League Cup: he won another league title in the 2017-2018 season.
Regional Championship: he won the Copa do Nordeste with Bahia, his first club as a professional player, in 2002.
Titles with national teams
In addition, with his selection he's also won important national titles:
Copa América: he won two editions, the first in 2007, with a renewed team where he played as an emerging figure, and in 2019. He was a captain in 2019, appearing as the symbol and figurehead of the host team in that cup. In both tournaments, he scored a goal.
FIFA Confederations Cup: he also won the trophy twice. The first of them was in South Africa in 2009 (one goal) and the second was in Brazil in 2013.
U20 World Cup: he was established as a player in this youth tournament in the 2003 edition.
Alves also had failures
Not everything in life is rose-colored. This also applies to Dani Alves' incredible career. Perhaps the hardest blow of his career that he received was in 2014, at the World Cup in Brazil.
The home team entered the semifinal against Germany with a difficult loss: Neymar had been injured in the quarter-finals. However, even with that loss, no one expected the crushing 1-7 defeat that resulted. It was, without a doubt, one of the most difficult moments of his entire career.
He also fell upon some hard times while with Barcelona. The most outstanding of them was at the end of the 2013-2014 season when the team had just lost La Liga at the hands of Diego Simeone's Atlético Madrid. Barcelona drew 1-1 at home against the 'Colchoneros'.
Given his irregular performances, Barcelona was considering the departure of the Brazilian, who'd already been with the club for six years. However, they chose to renew his contract and the move went very well. Luis Enrique's team won the treble (League, UEFA CL, and Copa del Rey).
Arrival at San Pablo, and retirement?
With his recent and surprising transfer to São Paulo FC, the club he's always wanted to play for, everything seems to indicate that this 37-year-old soccer player will end his sports career where he always dreamed of. Since he emigrated very young from Brazil, there are great expectations to see how he'll develop his captaincy in the Brazilian team.
His team didn't win the 2019 edition of the Copa Libertadores, but he hopes to help his team do better in this year's competition. This way, he can play in one of the few international competitions he's not participated in until now. Will Dani Alves be able to crown his highly decorated career with a trophy for his dream team?
It might interest you...