The Best Soccer Players of All Time
The best soccer players are known by the titles they've won and by their achievements. But they're also known by their different characteristics and styles on the playing field.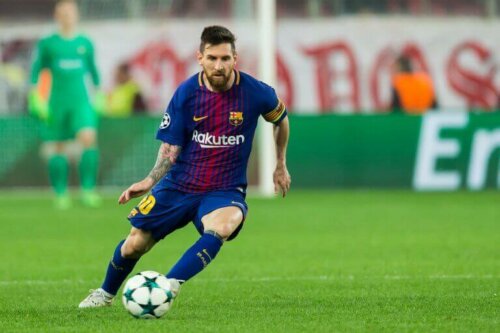 Rankings and lists are always being made of the top soccer players throughout history, and there's sometimes controversy with regards to the ones who are chosen or the reasons why they're on the list. In this article, we'll tell you about the soccer players who are known for something in particular during their careers.
Who are the best soccer players of all time?
You might not have seen all of them play? Perhaps you're not even an ardent soccer fan? But, we're sure you'll know who we're talking about when we refer to the best soccer players of all time. The following list will highlight players who have stood out (or who stand out) from the crowd during the time they were playing.
1. Pelé
His name is Edson Arantes do Nascimento, but everyone knows him as Pelé. This retired Brazilian soccer player was born in 1940 and has been recognized, not without criticism, as the best of all time.
Pelé debuted as a player in 1956 for the Santos Football Club and retired in 1977 with the New York Cosmos. These are the only two clubs he played for.
Together with the Brazilian national team, he won three World Cups (1958, 1962, and 1970). He was also present at the competition of 1966, and he scored 12 goals in total. Throughout his career, he played 1,366 games and scored 1,282 goals, almost one per game. However, this statistic includes unofficial games that some statisticians refuse to recognize.
2. Among the best soccer players: Diego Maradona
Born in Argentina in 1960, he competes with Pelé for the title of the best soccer player of all time. On the playing field, no one can deny that Maradona was extremely gifted and had incredible dribbling skills.
'The Golden Boy' debuted as a player in the Argentinos Juniors in 1976. Later, he played for the Boca Juniors, the Barcelona FC, Napoles, Sevilla, Newell's Old Boys, and then returned to Boca, where he finished his professional playing career in 1977.
As a coach, he served in several minor clubs and also in the Argentinian national team. Under his leadership, they reached the quarter-finals in South Africa in 2010.
Among the many goals he scored, two in England in the 1986 World Cup clincher are remembered by all fans. "The goal of the century" and, "The hand of God" will remain in history forever. In addition to winning the World Cup in Mexico in 1986, his team was the runner-up in Italy, in 1990.
3. Lionel Messi
Here's another Argentinean who is part of the 'hall of fame' as one of the best soccer players of all time. Born in 1987, he's considered one of the most important players in history in the sport. Among other distinctions, he's received the Ballon d'Or six times and the European Golden Boot six times.
Although Messi (see the first image) started out at the Newell's Old Boys club, his professional debut was at Barcelona FC in 2004. He's still part of Barcelona and has won 34 titles with them. Messi holds the records for most goals in the Spanish La Liga, and for most assists.
With the Argentina national team, he made his debut in 2005, won gold at the 2008 Olympic Games and participated in the 2006, 2010, 2014 (runner-up) and 2018 World Cups.
4. Johan Cruyff
Born in the Netherlands in 1947, he's considered the best European soccer player and one of the best soccer players in the world. Cruyff debuted in Ajax in Amsterdam in 1964 and retired 20 years later in Feyenoord Rotterdam. He also played for Barcelona for a time.
He played his first game with the Dutch national team in 1966 and was part of what later became known as "the Clockwork Orange", one of the largest teams in soccer history.
Cruyff only participated in the 1974 World Cup, where his team was runner-up, losing against West Germany. After his retirement as a player, the Dutchman also served as a coach. He passed away in 2016, at the age of 68.
5. Zinedine Zidane
Born in Marseilles in 1972 and of Algerian descent, Zizou is a former player who began his career in 1989 at AS Cannes. Later, after playing for Bordeaux, he became famous for his talents both at Juventus and Real Madrid. He retired from playing in 2006 and is the current Real Madrid manager.
If you're a soccer fan, you no doubt remember his time with the French team, where he played no less than 108 games and scored 31 goals. His team won the France 1998 World Cup and they were the runners-up in 2006. Zidane is the first player in history to receive the honor of "Player of the Year" in three of the five best leagues in the world (France, Spain, and Italy).
6. Best soccer players of all time: Cristiano Ronaldo
Born on the island of Madeira in 1985, this Portuguese player is the second on our list who's still actively playing (along with Messi). You can pick him out by the number seven on his jersey. He's Real Madrid's top scorer, with 450 goals over nine seasons.
He began his career at Sporting CP. Cristiano Ronaldo has played for Manchester United, Real Madrid, and is currently playing with Juventus. He made his debut in the Portuguese national team in 2003 and participated in the 2006, 2010, 2014, and 2018 World Cups. In the 2018 World Cup, he scored a hat-trick against Spain.
Finally, here are some other best soccer players of all time that we can't leave out. Among them are Michel Platini, Alfredo DiStefano, Franz Beckenbauer, Ronaldo, Ferenc Puskas, Paolo Maldini, Ronaldinho, Marco Van Basten, Jurgen Klinsmann, and Gareth Bale. Which out of all of these stars is your favorite?
It might interest you...