The Path to Becoming a Professional Referee
If you want to become a soccer referee, you'll have to meet a set of requirements, as well as passing the qualifying exams. Here's everything you need to know about becoming a professional referee.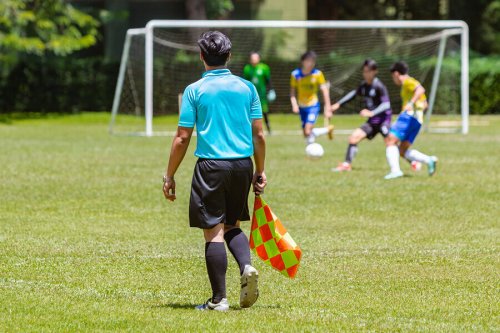 If you love sports and want to make it your profession, you should start studying! Why not become a soccer referee?
First things first, you need to know that reaching the top spot requires enormous effort and dedication. Good physical shape and a solid study capacity are two important keys to opening doors to higher-category games.
Being a true sports nut is another important characteristic to have as you'll receive plenty of criticism and at times, little appreciation for what you do. Being a referee is definitely no walk in the park and demands physical and psychological strength.
Referee requirements
Not everyone can be a referee. National federations establish the requirements for future referees. While these requirements can vary depending on the country in question, they generally encompass the following:
Age: referees need to be young and in good physical shape. Consequently, aspirants must be at least 14 or 16 years old. In addition to the minimum age, there's an age limit for the selection process as well. While the limit depends on the country, it generally ranges from 26 to 29 years.
Impartiality: impartiality has to be an obvious trait in all referees. Thus, anyone who is already playing for a soccer team isn't allowed to be a referee. If such players were allowed to judge the game, the teams would never receive fair treatment.
Pass both parts of the qualifying exam: all aspirants who meet the requirements and pay the exam fees can move on to take the actual qualifying exam. There are two parts: practice and theory.
What's included in the soccer referee exam?
Just as we mentioned above, the test is made up of two parts. Aspirants must pass both parts to pass the exam.
Theory
Aspirants first have to pass a theoretical exam. While most people might think the test revolves mainly around sports regulation, it actually encompasses many more topics.
Referees need to know the rules down to every detail in order to carry out their responsibilities correctly. They also have to write up an informative report at the end of each game. These reports have to follow certain formalities that every referee should be familiar with.
Lastly, they also have to prove that they're capable of managing conflicts, which are possible in any game. In addition, they also need to prove that they're able to calm down or act appropriately in difficult situations.
Practice
The practical exam is different for men and women. Men have less time to finish their exams. All of the physical exercises on the exam are designed to prove the capability of withstanding a 90-minute game.
While the exercises vary from country to country, they generally include speed and endurance activities. In addition, the federations normally change the exercises from time to time.
But you shouldn't stress over which kind of exercises to expect on the exam as they're all explained in advance.
Once you make it, what games can you referee?
In a way, referees work their way to the top just as soccer players do. They have to start in lower-category games and progressively move up to professional leagues.
As such, new refs start with adolescents or children's leagues. After, they may move up to regional leagues. Next, they can finally work in first- or second-division games.
Lastly, the salaries that referees can earn depends on the category of the game they oversee. Not surprisingly, there's a big difference between the pay that a ref of a regional-category game receives and that of a professional first-division game.
It might interest you...