Triple Crown of Cycling Winners
The big grand tours are only for highly trained athletes. For this reason, very few have won the Triple Crown of Cycling.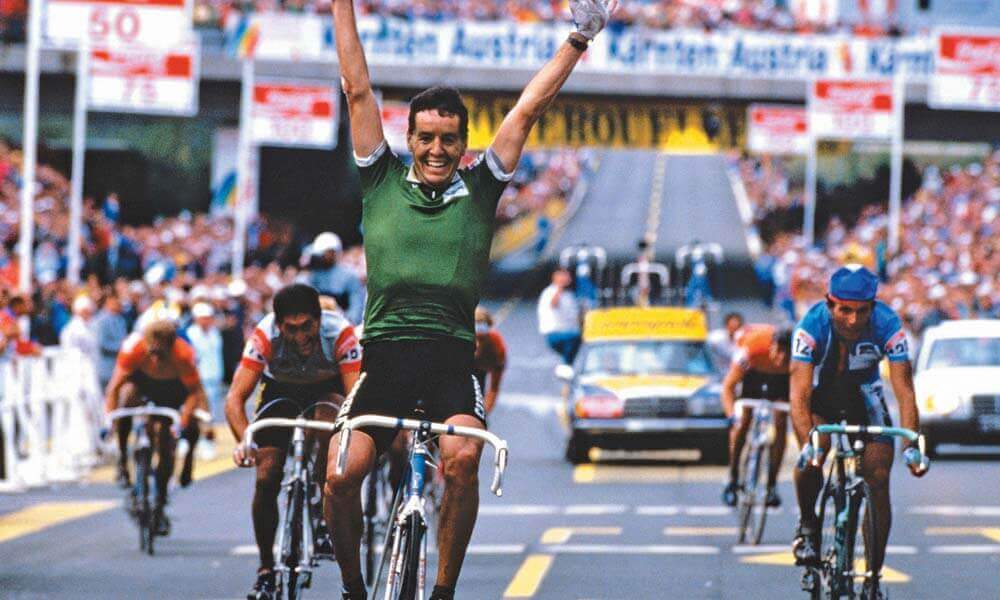 Those who practice and compete in cycling races aim to win one of the three Grand Tours: the Tour de France, the Giro d'Italia, and the La Vuelta in Spain. In fact, some have had the honor of taking all the competitions, earning them the Triple Crown! We'll tell you all about them in this article.
Triple Crown winners
In the history of the Grand Tours, only two riders have taken two of the races and one world championship in the same season, which is known as the Triple Crown. They are:
1. Eddy Merckx
This Belgian cyclist, born in 1945, was the first to win the Triple Crown of the Grand Tours and the World Championship. Because of this, many consider him the best of all time.
In fact, journalists and sports fans gave him the nickname "The Belgian Monster." He went on to win La Vuelta, the Gira, and the World Cup in 1974. However, before that, he'd already won the Italian championship four times and the Tour de France four times. The most curious thing of all is that, after taking the hat trick, he didn't win any of these three important races again.
2. Stephen Roche: the 1987 triple crown
Born in Dublin in 1959, this cyclist's career took place between 1981 and 1993. Without a doubt, the best year was 1987, when he managed to win the Triple Crown. Also, in the previous season, a fall took him away from the races!
Overall, Roche has won 58 competitions since his professional debut in the Paris-Nice race. He's never been able to take La Vuelta in Spain. His best record for this was the 14th place (the only time he competed, in 1992).
Winners of the Triple Crown in different years
In addition to the best cyclists in history mentioned above, we can't forget those that have won the Triple Crown (France, Italy and Spain) in different seasons:
1. Jaque Anquetil: triple crown
The Frenchman is one of the most prominent European cyclists. He won his first big lap in his homeland in 1957, but continued to be number one on four more occasions… and in a row! He did it between 1961 and 1964.
However, that's not all. Anquetil won the Giro d'Italia in 1960 and 1964. Also, he won La Vuelta in Spain in 1963. In total, he has eight titles on the grand tours.
2. Felice Gimondi
Italian cyclist winner of three Giros d'Italia (1967, 1969 and 1976), a Tour de France (1965), and a La Vuelta in Spain (1968). Due to this large number of wins, he deserves a prominent place on this list. Gimondi passed away in 2019 from a heart attack.
3. Eddy Merckx
Once again, we're going to mention this Belgian cyclist, who in addition to obtaining the Triple Crown (as we discussed above) has also won three Grand Tours in different seasons. In fact, Merckx has five Tours de France (1969, 1970, 1971, 1972, and 1974) fives Giros d'Italia (1968, 1970, 1972, 1973 and 1974) and one La Vuelta in Spain (1973).
4. Bernard Hinault
Another of the great cyclists in history. Hinault has taken the French race five times: 1978, 1979, 1981, 1982, and 1985. Also, he took the Giro d'Italia three times (1980, 1982 and 1985) and the Spanish one twice: 1978 and 1983.
5. Alberto Contador
This Spaniard entered the brief group of winners in 2008 when he took the Giro and Vuelta and completed the feat a year earlier in France. However, his achievements didn't stop there, since he won again in France in 2009, in Spain in 2012 and 2014, and in Italy in 2015.
6. Vincenzo Nibali
Another Italian in the cycling hall of fame. Nibali (cover of this article) won his first Grand Tour in 2010 in Spain. Then, he won in his homeland in 2013 (repeated in 2016) and in France in 2014.
7. Chris Froome
This Englishman is one of the legends of international cycling, and the last to get into the team of Triple Crown winners.
The first one he took was La Vuelta in Spain in 2011 (and again in 2017), and the second in France in 2013. Also, he won the 2015, 2016, and 2017 editions. Froome had to wait until 2018 to take the Giro d'Italia and become a Triple Crown winner.
Finally, we want to highlight the cyclists who have taken a World Championship and a Grand Tour: Alfredo Binda, George Speicher, Fausto Coppi, Louison Bobet, Ercole Baldini, and Greg LeMond. In the future, this list will surely get even longer!
It might interest you...