Young Riders: the Future MotoGP Champions
Luckily for motorcycling, the quality seems to guarantee the future of the competition. Although it's impossible to mention them all, we can predict who'll be the future Márquez, Rossi or Lorenzo.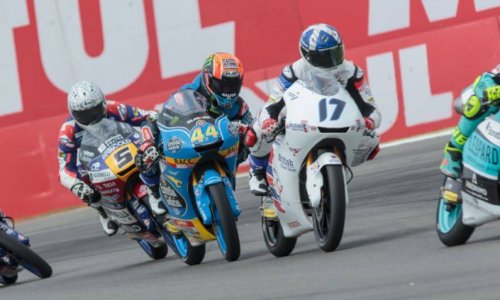 The promising young riders in the motorcycling world definitely have a strong presence. They're an even younger generation, willing to mimic and surpass their idols. Although it's getting harder to take a spot in the premier class, the following young riders aspire to be the future MotoGP champions.
Young riders: Joan Mir
This 20-year-old rider holds the record as the world's youngest Moto3 champion. Born in Palma de Mallorca, Mir has raced in competitions such as FIM CEV or Red Bull MotoGP Rookies Cup. He hasn't won in any of those categories, but his talent earned him a spot in Moto2.
Today, and after being champion in the Moto2 category, Mir has stepped up by debuting at the Moto2 World Championship in 2018 with the Marc VDS racing team. In December 2017, Mir already had the chance of racing in his new motorcycle to start his adaptation period in the 125cc category. All eyes are on him, especially after his performance at MotoGP 2019. It's a matter of time before he becomes a world champion in the premier category.
Young riders: Brad Binder
Although he's only 22, Brad Binder has a long career in the motorcycle world championship. The South African racer debuted in 2011's edition when the lowest category was 125cc, and he later competed at Moto3 for 5 years. In 2016, he was world champion after 7 wins and 14 podiums; amazing results that opened the doors of Moto2 for him. 
Despite Binder competing in another category, he's part of the KTM team, with which he achieved 5 podiums in the 2019 edition. That's why he's one of the favorites to become a world champion in the next season.
Romano Fenati
Romano Fenati is one of those riders who in spite of having talent, are still stuck in one of the world championship categories. This is because there are more and more racers each time and fewer free spots in the greater categories. The Italian rider is one of the Moto3 veterans, having competed in it for 6 seasons. In 2017 he achieved 3 wins and 8 podiums, a result that helped him get a promotion in the category as a member of the Marinelli Rivacold Snipers Team.
Unfortunately, Fenati has interfered with other riders during races. The Marinelli Snipers Team dropped him after he pulled Stefano Manzi's front brake lever as they were racing at 120mph. This incident got his license revoked for the remainder of the 2018 season.
However, in 2019 he returned to compete in the Moto3 category. Fenati still has the potential of becoming the next Valentino Rossi, although he'll need to work hard to get up from the controversy.
Franco Morbidelli: the future MotoGP champion who didn't have it easy
Just like Romano Fenati, Morbidelli is one of the young promising riders of Italy. Unlike other current racers, he hasn't competed in the Moto3 category. Instead, he has gone through a different journey that helped him train to become a rider. His debut was in 2011 at the European Superstock 600 category, where he became world champion only two years later.
Looking for a new challenge, Morbidelli achieves Moto2, a category he participated in for five years, where he won a world champion title as well. In this stage, it was a hard time for the rider. Morbidelli had to grow both as a person and as a rider due to the lack of good results and sponsorships, and his father's suicide.
He's now been competing in MotoGP for two seasons, always improving and moving forward. Perhaps, he'll be a world champion in this category in a few years?
It might interest you...