The Best Sports Video Games
Sports video games are becoming more popular and more real. The editions are getting better and better, making it hard to believe that they're just games!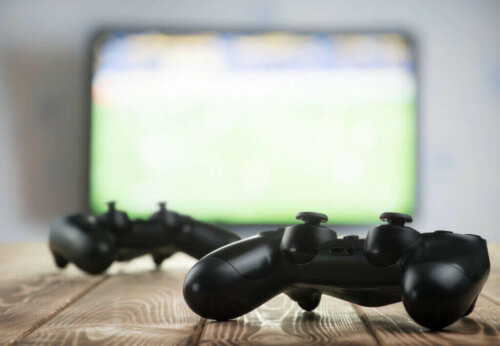 Sports video games are one of the most popular top sellers around the world. Increasingly more real and with new editions every year, they attract the attention of millions of people. They allow you to show how good you are at sports through screens! In this article, we'll tell you about the best titles for each platform.
What are the best sports video games?
If you aren't "good" at soccer or basketball but you're passionate about sports and you want to know how it feels to score a goal or shoot a basketball, sports video games are for you!
That's why these games, which are very popular around the world, exist. Would you like to know which are the best ones? Discover them below.
1. WWE 2K
This is a series of more than 20 professional wrestling WWE video games. The video game follows the programming of this "league". In its beginnings, it was called WWE SmackDown! Replicating the television program that transmits the fights.
WWE 2K is available for many different platforms, such as PlayStation, Xbox, Wii, Nintendo, Android, and iOS. The first game was released in the year 2000. Since then, various important fighters appear on the cover each year, including The Rock, Chris Jericho, and John Cena, among others.
2. Pro Evolution Soccer
PES, as it's popularly called, is one of the most popular sports video games in the world. The first edition was released in 2001. You can play it on your PlayStation and PC. In the English version of PES, Terry Butcher and Chris James provide commentary.
Some of the soccer clubs you can play with are Manchester United, Chelsea, Liverpool, Barcelona, Real Madrid, Monaco, Paris Saint Germain, Lazio, Inter, Borussia Dortmund, and Bayern Munich. The eight fictitious stadiums are based on some of the most important in the world, such as the San Siro, Camp Nou, or the Johan Cruyff Arena.
3. NBA 2K
If you're a fan of the NBA, this sports video game is the one for you. It's a series of titles that were created in 1999, initially produced by Sega and later by 2K Sports.
Some of the basketball personalities NBA 2K covers feature include Allen Iverson, Ben Wallace, Shaquille O'Neal, Kobe Bryant, Michael Jordan, Larry Bird, Magic Johnson, LeBron James, and brothers Pau and Marc Gasol.
4. Tony Hawk's Pro Skater
Another of the best sports video games that exist corresponds to the Tony Hawk adventure and extreme sports saga. Tony Hawk is the best-known professional skater in the world.
You can play Pro Skater on PlayStation, Nintendo, Game Boy Color, N-Gage, and Dreamcast. The different scenarios that you can choose for your skater to do their tricks range from Miami and Chicago to New York and San Francisco.
5. F1 2019
Since 2009, a new video game based on the Formula One season is released each year. In the 2019 edition, known as the 10th-anniversary edition, the developers exponentially improved the quality of the game.
Offering the possibility of feeling the adrenaline of speed, almost as if you were a driver yourself, F1 2019 invites you to experience Formula One from the inside, with scenarios that feel very real. Sebastian Vettel and Lewis Hamilton are on the cover of this edition.
6. Virtua Tennis
This video game, launched in 1999 by Sega, became a success in a very short time. Thus, the platforms it was available for were expanded and included Game Boy and Windows. In fact, it's also available for mobile phones.
In Virtua Tennis, you can choose between professional tennis players. For example, in the latest version, you could choose between Roger Federer, Novak Djokovic, Andy Murray, Rafael Nadal, Andy Roddick, Venus Williams, Maria Sharapova, and some legends such as Boris Becker. Also, you can choose between different courts, such as those the Grand Slams are played at.
In short, there are thousands of sports video games to enjoy!
We need to emphasize that the ones we listed here are only some alternatives to a very vast market. For example, a few other amazing sports video games are Tiger Woods PGA Tour, FIFA, Football Manager, Out of the Park Baseball, and Super Stickman Golf.
It might interest you...