Summer is Around the Corner! Have you Picked a Sport Yet?
With the arrival of summer, you shouldn't stop exercising. In this article, we'll show you the best sports for this time of the year. Take note and choose your favorite!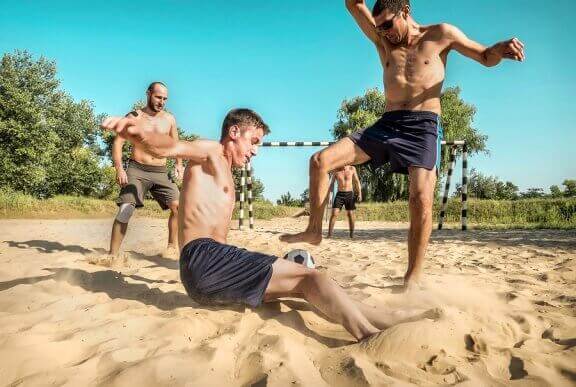 As we all know, summer is synonymous with an increase in temperature. For many athletes, this is a time of the year when commitment and motivation often run low.
However, summer shouldn't mean you have to have a sedentary life. On the contrary! In this article, we'll help you choose your sport for the summer.
It's possible to combine well-being and fun during the holidays. Summer is an ideal time to spend a lot of time outdoors and benefit from the amazing weather.
For athletes, it's an ideal season to practice sports that cannot be performed during the other seasons. For example, surfing or beach soccer are great options to get fit and have some fun with friends during the hottest months of the year.
The following sports are not only fun to practice, but they're also suitable for all types of athletes, from beginners to ultimate pros.
The best sports for summer
1. Running in the sand
Running in the sand on the beach is one of the best ways to stay in shape during the warmer months of the year. It's a sport that helps to maintain the silhouette, improve muscle tone and raise the mood.
Running on a harder surface demands more strength from the muscles, it requires more energy than other types of exercises. This means that you'll get better results in a shorter amount of time.
Of course, if you decide to run in the sand during the summer months, never forget to wear sunscreen. Sunscreen protects your skin, as well as sunglasses and a hat. Similarly, don't forget to hydrate before, during and after the activity.
2. Swimming, a great summer sport
As you know, there are several styles of swimming, and each of them engages different muscle groups. When you swim, water provides extra resistance. So really, it doesn't matter in which style you swim, as long as you're displacing your body through the water.
That's why swimming is an efficient way to burn calories. When you swim, muscles are trained and the cardiovascular system improves, as swimming makes the heart and lungs stronger. In fact, swimming is recommended to strengthen muscles, but also to gain resistance.
3. Beach volleyball
Beach volleyball is ideal to tone the body since the glutes and thighs work non-stop. In addition, the abdominal and lumbar muscles are used thoroughly throughout the game.
It's also an excellent activity for tanning, and perfect for those who want to make friends. Remember that, in order to start a game, there must be at least four players, since it's played in teams of two.
It has, with some exceptions, the same rules as volleyball. But, as it's played in the sand, it allows for performing acrobatic movements without risking injuries from heavy falls.
However, if you're not used to playing sport, the risk of injury must be considered, as jumps on an unstable surface increase the risk of sprains. Therefore, a good warm-up of the muscles and joints is essential for the practice of beach volleyball.
4. Beach soccer
Lovers of classic soccer are in luck. Beach soccer is a fun and accessible activity for all profiles of athletes.
Undoubtedly, it's an excellent sport to improve your speed and coordination. Also, it helps you make quick decisions, as you have to figure out how to avoid your rivals in terrain such as sand.
As you have seen in this article, there are many sports you can do during the summer. However, remember that you must take some precautions to combat the rise in temperatures. Hydrate continuously and avoid being in the sun for too many hours in a row.
It might interest you...