Discover Two Amazing Fish Recipes
Nutritionists recommend eating fish as part of a balanced diet since it's packed with vitamins and proteins. In this article, we'll explore two great fish recipes that you can try out at home.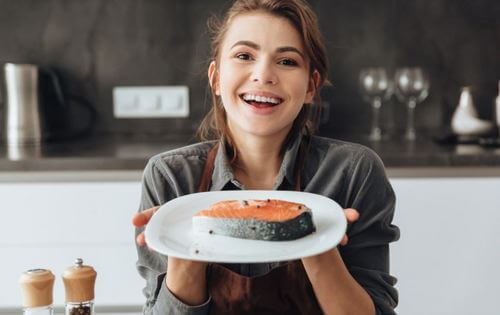 In addition to being one of the most beneficial foods- thanks to their vitamins and minerals, fish is popular and healthy. There are many fish recipes that can be enjoyed, whether cooking for a family or for a more sophisticated occasion.
In this article, we'll look at two fish recipes for you to enjoy.
Our first example from our fish recipes is probably a good option for little ones. Breaded fish sticks are a fun and simple way for children to give fish a try. They're often served with french fries, which will help children become even more enthusiastic about eating.
On the other hand, our salmon with a cilantro sauce is more refined. It's ideal for a more formal date or for entertaining friends. Though it may seem like a fancy chef's recipe, it's very easy to make and, most importantly, it's delicious.
Fish sticks
Ingredients:
Six hake fillets
Flour (½ cup)
Oats (½ cup)
3 tablespoons of sesame seeds
3 eggs
2 tablespoon of mustard
Salt to taste
Pepper to taste
Parsley to taste
Oil (1 pint)
Preparation:
Cut the fish into medium-sized stick pieces, about eight to ten centimeters long. Then, put them in the fridge for a few minutes.
Put the three eggs in a bowl and beat them. Then, add the salt and the mustard and mix until combined.
In another bowl, mix the flour, oats, and sesame seeds together. You can also add salt to taste or other spices and condiments.
Then, remove the fish sticks from the refrigerator and add them to the egg, mustard, and salt mixture. If you have time, we recommend letting it rest for a few minutes, for more flavor.
Then, dip the fish sticks in the flour and eggs. We recommend repeating this step twice.
Heat plenty of oil in a pan.
Once the oil is hot, fry the sticks and transfer them to a dish with absorbent paper towels to remove the excess oil. Then, lightly sprinkle with salt.
Finally, serve this lovely fish recipe on a plate and garnish with fresh parsley.
Fish recipes: Salmon with a cilantro sauce
Ingredients:
Two pink salmon fillets (about 5 ounces each)
Shortening (2 ounces)
Heavy cream (3.4 fluid ounces)
Two tablespoons of olive oil
Juice of half an orange 
Juice of half a lemon 
1 teaspoon of ginger powder
Two tablespoons of cilantro
Ground chili to taste (optional)
Salt to taste
Chopped parsley
Pepper to taste
Preparation:
Firstly, put the lemon and orange juice in a bowl. Then, add the coriander and the parsley, finely chopped. Next, season with the ground chili and ginger powder (you can also choose to grate ginger root, but make sure to use the same amount – a teaspoon).
Then, place the salmon in the bowl and let it marinate for a few minutes in the fridge. We recommend leaving it for about 20 minutes.
Meanwhile, heat a pan and melt the butter with the olive oil. Then, add the salmon and cook for two minutes on each side. Add salt and pepper to taste.
Then, add the rest of the juice from the bowl with the lemon, orange, cilantro, and parsley to the pan. Cook for two more minutes, repeating the process of turning the salmon on each side.
Remove the salmon from the pan. Let it sit at a warm temperature.
Pour the cream into the pan, mixing gently so that it combines with the other ingredients.
Then, put the salmon back in the pan and repeat the process of turning it so that it absorbs some of the sauce.
Finally, place the salmon on a plate and pour the sauce on top. It can be garnished with a little more chopped parsley if you'd like. In addition, we recommend serving it with a mixed green salad (lettuce, arugula, spinach, etc.) and fresh tomatoes.
It might interest you...