Healthy Cookie Recipes
We present a list of healthy cookie recipes easy enough for anybody. Whether you're a beginner or an expert, you'll surely surprise your guests!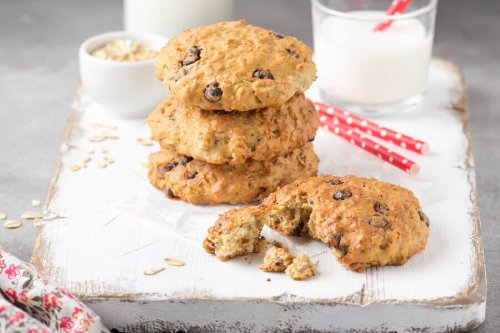 Cookies are usually present in your pantry at home, but are they healthy? In general, the ingredients they contain are low quality; they're usually a mix of refined flours, vegetable oils, and added sugar. The best option, then, is to use the following healthy cookie recipes.
Healthy cookie recipes: coconut, banana, and dried fig
Ingredients:
1 large banana or 2 small, very ripe ones
2.5 ounces of grated coconut
Chocolate (80 – 85 percent cocoa, optional)
Dried figs to taste
Directions:
Preheat the oven to 356 ° F.
Put the banana, coconut, and dried figs in a food processor and crush. Another option could be to crush them with a fork.
Next, make balls and flatten on top of the baking sheet to shape the cookies (as in the cover image of the article).
If you want to add chocolate and sprinkle grated coconut on top, this is the time.
Bake for 15-20 minutes and let cool before handling to prevent them from baking.
Healthy cookie recipes: pumpkin and banana
Ingredients: 
¼ cooked pumpkin
1 ripe banana
2 ounces of oatmeal
A pinch of salt
A pinch of cinnamon
A teaspoon of baking powder
Directions:
Crush the banana and pumpkin until a puree is obtained, either with the help of a fork or a food processor.
Add the rest of the food, stir and shape the dough.
Place on wax paper on a baking tray and bake at 356 ° F for 20 minutes.
Check out this article too: The 4 Best Dessert Recipes to Stay Fit
Healthy cookie recipes: white bean and chocolate
Ingredients: 
1 can of cooked white beans
7 ounces of almond flour or rice flour
Zest of an orange
Vanilla extract(optional)
5 dates
Dark chocolate 80 percent cocoa in small pieces
Directions: 
First, crush the dates along with the white beans in a food processor. A trick to crushing dates is to place them in the water for a couple of minutes before so that they soften.
Then, add the orange zest, vanilla extract, and almond flour. Mix everything.
Add the chopped chocolate and mix again.
Finally, place the cookies on the baking sheet and put in the preheated oven for approximately 30 minutes at 356° F.
Healthy cookie recipes: buckwheat cookies
Ingredients:
3.5 ounces of buckwheat flour
0.5 ounces of cornmeal
½ teaspoon of yeast
1 egg
0.8 fluid ounces of milk
2.3 ounces of raw cashews or other nuts
5 pitted dates
Vanilla extract to taste
Directions:
First, mix the flour with the yeast in a bowl. Meanwhile, in a separate bowl, blend the cashews and dates until you get a cream.
Next, add the vanilla extract and the previously beaten egg to the flour mixture and stir well.
Put the contents of both bowls together and beat until thoroughly blended.
Finally, spread on a paper with a rolling pin, shape the cookies and bake at 302° F for 12-15 minutes in the preheated oven.
Read this article: Sweets: fitness-conscious Dessert Recipes
Healthy cookie recipes: brownie cookies
Ingredients:
7 ounces of dark chocolate
2.8 ounces of dates
3 eggs
2 ounces of wheat flour
0.7 ounces of cocoa powder
¼ tablespoon of yeast
Vanilla extract to taste
Pinch of salt
Directions:
First, mix the whole wheat flour with the cocoa powder, yeast, and salt in a bowl and set aside.
Then, beat the eggs with the dates and the vanilla extract and set aside.
Third, melt the dark chocolate, add it to the mixture of eggs and dates and fold the two together.
Then add this mixture to the bowl with flour and repeat the same process. Finally, add the remaining chopped dark chocolate and mix again.
Before baking, place the non-stick paper on the baking sheet and form the cookies with a spoon, placing them on the tray and leaving a distance between them. The dough will have a very sticky texture, so a spatula will be needed to separate it, as well as to give it the desired shape.
Bake for about 15 minutes in the preheated oven. After this time, remove them from the oven and let them cool.
As you can see, these healthy cookie recipes are simple and don't demand hard-to-get ingredients. Spice up your snacks with these excellent alternatives and enjoy these healthy cookie recipes in your house!
It might interest you...