Indoor Triathlon: A New Fitness Trend
In recent years, high-intensity interval training (HIIT) has become one of the new trends in fitness. The indoor triathlon is a modality within this category. Let's get to know it!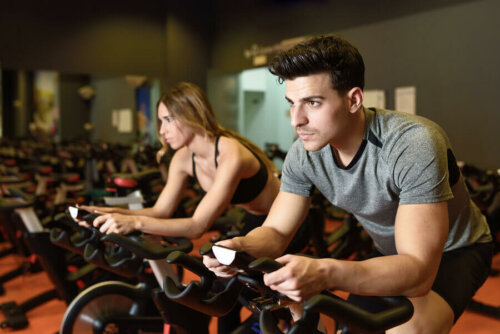 Over the past few years, high-intensity interval training has become one of the top fitness trends. The benefits that the famous HIIT brings to our health are several, which highlights the importance of quality over quantity of training. One of these new trends is the indoor triathlon. Let's find out everything you need to know about it!
What is indoor triathlon?
Indoor triathlon is a high-intensity interval training or HIIT exercise that, like its older sibling, conventional triathlon, mixes three activities that we can carry out in any gym:
Skierg (Nordic ski simulator)
Bicycle
Rowing
Working with these three elements provides a complete exercise at the muscular level. In this way, with this new sports practice, we'll have exercised absolutely all the muscle groups in a very balanced and adaptable way.
What are the benefits it brings us?
As we've previously mentioned, the practice of this discipline offers a very complete workout for the whole body. Doing an indoor triathlon allows us to achieve adaptations at the level of training, whether of strength or cardiovascular endurance. 
By performing these exercises, we can improve muscle strength as well as cardiovascular health. It's because of this that this activity—the indoor triathlon—comes close to the physiological demands of the traditional triathlon.
Another of the great benefits that its practice offers is that there's practically no joint impact. When carrying out other forms of cardio, it's possible to suffer problems due to joint impact. However, with the indoor triathlon, this risk is eliminated. This allows any group of people to practice it, regardless of age or physical condition.
Calorie burn, another of its advantages
Last but not least, it's important to underline that up to 600 kcal can be lost in a session of just one hour. Also, taking into account that the metabolism can accelerate up to 24 hours after the activity, the estimated total caloric expenditure could reach 1,000 kcal.
How is a session of indoor triathlon?
The indoor triathlon bases its training on different time intervals; the three disciplines mentioned above alternate with other implements. These could be kettlebells, suspension training or TRX, rubber bands, and also working with one's own body weight.
The sessions, in this way, can become a very complete training, while adding a playful component. In many cases, you can carry out workouts collectively and hold different competitions, either by time or distance. This makes this practice very addictive.
The practice of this triathlon modality can be the perfect complement to the sport that you mainly practice. An average session can last between 45 and 60 minutes in length.
Is it necessary to take any precautions for the indoor triathlon?
The necessary precautions aren't more than those that you need to take for any other cardiovascular activity. However, it's essential to know our initial health and physical condition. It's important to be sure that there's no limitation that can prevent us from carrying out this practice.
A good initial physical evaluation will be the best starting point to enter this exciting discipline. From there, it's important to be patient and follow the guidance of a professional in sports science. This will ensure proper guidance in our progression in order to comply with the basic principles of training.
Conclusions
To sum it all up, we can affirm that the indoor triathlon is one of the most attractive new fitness disciplines to discover for the vast majority of us, especially if we pay particular attention to the benefits it brings to our physical wellbeing. So don't just sit back, it's time to try this form of training!
It might interest you...