Some Examples of Professional Vegan Athletes
Vegan athletes are becoming more and more common. They're no longer an exception to the rule. Many decided to change their diets for health reasons, and others for their performance or ethics.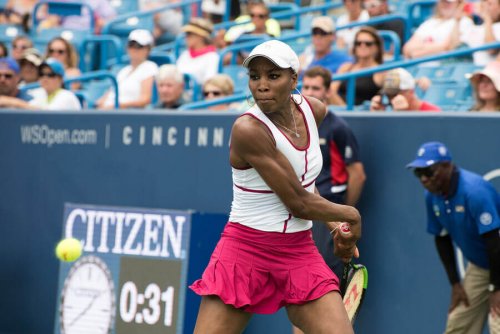 More and more people are deciding to stop eating meat and other animal products. We can obviously find many examples in the sports world. In the following article, we'll talk about some professional vegan athletes and their diets.
Professional vegan athletes
People usually say that veganism and sports don't go hand in hand, because this type of diet doesn't provide all the necessary nutrients. However, these vegan athletes prove that it all depends on how balanced the diet that you're following is. They're successful without eating meat!
1. Venus Williams, a world-class professional vegan athlete
One of the most successful tennis players in history, with seven Grand Slam titles and close to 50 WTA tournaments, on top of the doubles, that she won with her sister Serena. When doctors diagnosed her with an autoimmune disease called Sjögren syndrome in 2011, she almost had to retire from the courts.
Instead, she decided to start a raw vegan diet, with the goal of recovering her health and sporting performance. It took less than a year for her to come back victorious.
While she claims to 'cheat' and eat some meat every once in a while, she considers herself to be a vegan athlete. When her sister saw the effects of the diet on her health, she didn't hesitate to join her in the transition. Now both of them are vegan!
2. Lewis Hamilton
One of the best drivers in the history of Formula 1 decided to become vegan for ethical reasons regarding the environment. According to his own words: "As human beings, we're really hurting the world. The pollution that comes from cattle breeding is incredible, a lot higher than the pollution generated by planes or cars. It's crazy."
Besides that, in some interviews, he stated that animal cruelty is horrible, and he doesn't want to have any part in it. Lastly, trying to live a healthier lifestyle is what ultimately helped him to make the decision of becoming a vegan.
3. Fiona Oakes
This is one of the most interesting cases of professional vegan athletes because this marathon runner stopped eating meat when she was only six years old. Despite popular belief, she was able to compete and win titles under extreme conditions, such as the North Pole.
Fiona, known as the 'queen of extremes', has won the female title for the North Pole Marathon, with temperatures below -22 °F and without consuming fats or meat.
4. Novak Djokovic
The Serbian tennis player is another professional athlete that decided to become a vegan in the hopes of eating a healthier diet. In 2011, Nole began eating a gluten-free diet, but he became vegan shortly after due to ethical, health and performance reasons.
He doesn't seem to be struggling too much ever since, as he has conquered several titles. Among them, we can find the Australian Open, a Roland Garros, four Wimbledon Tournaments and two US Open titles. And that's not even the end of it; his wife Jelena even owns a vegan, gluten-free and eco-friendly restaurant in Monte Carlo.
5. Héctor Bellerín
The Spanish sideline player for Arsenal decided to become vegan in 2017. He claims his health has noticeably improved ever since. How did he go from eating lots of meat to not trying it at all? It happened because of a conversation with David Hayer, a former heavyweight British boxing champion who is also vegan.
Bellerín's goal was to not eat meat for three weeks, but the changes and improvements in his body were so major that he decided to extend the challenge. "The muscle recovery is superior after the games, and long-term injuries don't affect me as much", the soccer player said.
6. Frank Medrano, a strong and professional vegan athlete
He's perhaps one of the most famous professional vegan athletes in the world of calisthenics. Medrano is the creator of the Street Workout. His training style consists of working out with his own body weight, but it also includes a different kind of diet.
Medrano realized that several of his colleagues who didn't eat meat had an excellent physical condition and he decided to try it. He enjoyed the changes so much that he became vegan. Medrano is very vocal about the subject on social media.
Finally, other professional vegan athletes that we can mention are: Patrick Baboumian (bodybuilder), Kyrie Irving (basketball player), Nate Díaz (UFC), Surya Bonaly (skater), Steph Davis (climber), Jermain Defoe (soccer player), Dave Scott (triathlete), Elena Congost (marathon runner), Hannah Teter (snowboarding) and Alberto Peláez (bike rider).
It might interest you...