Fruit and Vegetable Recipes
There's a huge variety of fruit and vegetable recipes that are very easy to prepare and taste great. Enjoying a balanced and varied diet is all a matter of creativity.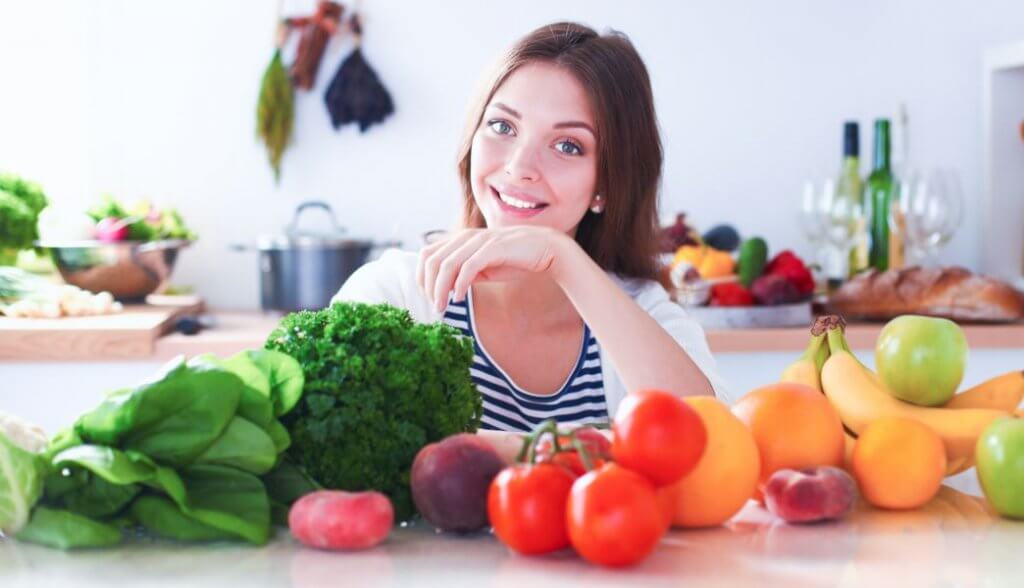 There are many health benefits to including fruit and vegetable recipes in your daily diet. Principal among these is that they're a primary source for the vitamins and minerals your body needs.
The World Health Organization (WHO) recommends that you consume three portions of fruits and two portions of vegetables per day. Don't forget to drink lots of liquids too. These fruit and vegetable recipes will help you to meet these goals.
Sweet and sour salad – the first of our fruit and vegetable recipes
Ingredients:
10 ounces of diced ham
7 ounces of diced yellow cheese
3 peeled, cut, and boiled potatoes
2 boiled carrots, peeled and cut into small pieces
1 peeled green apple cut into small pieces
For the dressing:
Lemon juice
1 cup of mayonnaise
1 natural yogurt
2 spoonfuls of honey
Salt and pepper
Directions:
Soak the green apple in lemon juice. This will prevent it from becoming oxidized.
Put the mayonnaise, yogurt, honey, and lemon juice in a bowl.
Season it with salt and pepper to taste.
Mix everything well and then set it aside.
Place the ham, cheese, apple, carrots, and potatoes in the salad bowl.
Put the mix from before on top of the salad, and mix everything until all the flavors are combined.
Serve it immediately.
Coconut and carrot soup
Ingredients:
One chopped onion
3 cups of vegetable broth
2 spoonfuls of sliced ginger
4 chopped cloves of garlic
1 teaspoon of curry
2 cups of chopped carrot
1 cup of chopped sweet potato
Half a cup of coconut milk
Salt and pepper
Directions:
In a pot, sauté the onion with one tablespoon of broth for about five minutes, while mixing it.
Add the garlic, the ginger, and the curry and cook this for one minute.
Put in the rest of the broth and add the carrots and the sweet potato.
Cook this for 15 minutes until the vegetables are well-cooked.
Add coconut milk to taste. Keep in mind that this milk has a very strong taste.
Add salt and pepper to taste.
Put the mix into a blender and blend it until it has a creamy texture.
Heat this up again and serve it.
Carrot and mandarin pancakes
Ingredients:
1 and 1/4 cups of wheat flour
1 teaspoon of baking powder
2 eggs
1/4 cup of mandarin juice
1 cup of carrot juice
Grated mandarins
1/2 tablespoon of sugar
Directions:
Blend all of the ingredients in a blender for 3 minutes.
Prepare a frying pan with butter and let the butter melt.
Put a portion of the pancake mix on it, letting it cook on both sides.
Fish with sautéd fruits and vegetables
Ingredients:
2 portions of your preferred fish
1 white cauliflower
Green beans
1 radish
4 cloves of garlic
2 carrots
1 cup of chopped blueberries
1 cup of chopped strawberries
1.7 ounces of butter
6 tablespoons of milk cream
Extra virgin olive oil
Salt
Pepper
Parsley
Vinegar
Preparation:
Place the cream, cut cauliflower, and the radish in a large pan. Season this with salt and pepper and let it cook for 15 minutes.
Slice the garlic cloves and sauté them in oil. Then add this to the mix of cauliflower with radish. Take care, as garlic can burn very quickly when it's cooked in oil.
Grind this mixture until you have a smooth puree without lumps.
Set it aside while you work on the remainder of the recipe.
On an ovenproof platter, place the fish pre-seasoned with salt, pepper, and oil. Bake it for ten or 20 minutes at 374 degrees F. The time it takes to bake, will depend on the size of the fish portions.
Place the strawberries and the blueberries in a bowl, with the chopped parsley on top of them. Then season this with salt and pepper, add oil and vinegar, and mix everything well.
In a wok with oil, salt the beans and the carrots.
Add the fruits and cook this at a high temperature for 2 minutes.
When serving the fish, place it on a dish with a portion of puree, and accompany it with one of the best fruit and vegetable recipes.
It might interest you...