The 9 Best Beaches to go Surfing
Surfing is a lifestyle, therefore many surfers are always searching for the perfect wave and the best beaches to practice this sport. Here are nine of the most wonderful beaches in the world to go surfing.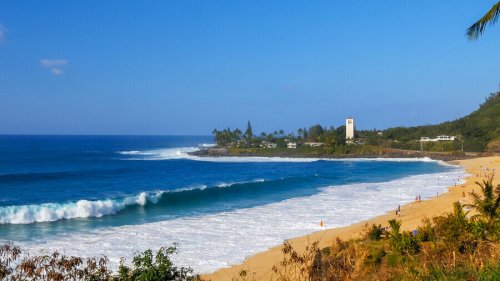 Surfing originally began in Polynesia and then it became a popular discipline within the USA, specifically the West Coast. Would you like to know which beaches are the best to go surfing? In this article, we'll you all about them!
The nine best beaches to go surfing
If you're thinking about doing something different for your vacation, or if you enjoy the idea of standing on your surfboard and navigated through wonderful waves, we have some suggestions for you. Here are some of the best beaches in the world to go surfing:
1. Waimea Bay, Hawaii
We couldn't start a list of the best beaches to go surfing without naming one of the places where this sport was born. Waimea is situated north of Oahu island and it's considered the "cradle of surfing".
Although people used to practice an ancient surfing style here, during the 50s the sport gained some momentum, and nowadays it's one of the places where every surfer wants to sail the waves. Surfing season here starts in November and ends in April. 
2. Banzai Pipeline, Hawaii
Not all the best beaches to go surfing are in Hawaii, but this one's certainly worth mentioning since it's highly renowned among surfers. Banzai Pipeline has beautiful coastlines, with perfect waves for experts, and a deep bottom full of coral reefs.
It's a highly dangerous beach due to the height of its waves, so it's not ideal for those who are just starting out on their surfing journey.
3. Gold Coast beach, Australia: one of the best beaches to go surfing
With its vast beaches and waves that can travel up to 300 miles, this is without a doubt one of the best places in the world to go surfing. The must-see Gold Coast spots are Burleigh Heads, Kirra, and the Snapper Rocks, Superbank. Plus, if you're looking for a place to stay: Surfers Paradise is also a must!
4. Supertubos, Portugal
At Jeffrey's Bay, you may find one of the best beaches in the world to go surfing. "Supertubos", which means "supertubes" is the name that best describes it. It offers a long series of waves with long tubes that roll all the way to the shore. 
Supertubos became famous in 1964, and it turned into one of the places for the world surfing circuit in no time. 
5. One of the best beaches to go surfing: Lagundri Bay, Indonesia
These paradise islands have a lot to offer. South of Nias island, you'll find Lagundri, with its famous ledges and seabeds. Although the wave season goes from March to October, the perfect-wave period here is from May to September. 
6. Zicatela Beach, Mexico
Zicatela beach has the best Mexican waves, and it's a paradise for surf lovers in that country. Located in Puerto Escondido ("Hidden Port"), Oaxaca, Zicatela beach offers two miles of coastline, with high, powerful waves, and strong tides. 
Californian surfers discovered it and gave it the nickname, "Mexican Pipeline", which clearly warns amateurs not to practice surfing there. However, it's still the perfect place to look at the pros as they surf the incredible high waves.
7. Mavericks, USA
Of course, one Californian beach had to make it to this list. This is the place where surfing gained popularity and where many great surfers were born. The Mavericks is north of the Half Moon Bay, and it offers some of the highest waves on the planet…up to 30 meters! 
This beach is 30 minutes from San Francisco and it became even more famous after the movie Chasing Mavericks was released in 2012. This movie tells the story of Jay Moriarty, who at only 15 years old, started surfing the highest waves in the world.
8. Thulusdhoo Islands, Maldives
The Maldives are popular for their paradise-like landscapes and for being the ideal honeymoon destination, but you can also go there to surf.
Among the almost one thousand islands that make up the archipelago, there's Thulusdhoo with amazing waves. Other destinations that are perfect for surfing are Chickens, Cokes, Honkys and Sultans.
9. Teahupoo, Tahiti
Finally, there's this incredible beach where people say you can find the most powerful waves in the world: an enormous speed tube, one mile offshore. It's for experts only! Furthermore, it's one of the most dangerous ones, given that there's a singular coral reef on its bottom.
Now that you know which beaches to go surfing, we'd like to add some honorable mentions that you can check out as well:
Fuerteventura, Spain.
Playa Naranjo, Costa Rica.
Florianopolis, Brazil.
Manu Bay, New Zealand.
Dare to try any of them? It'll be worth it!
It might interest you...