Roger Federer and His Incredible Records
Is Roger Federer the best tennis player of all time? Read about his amazing track record that only speaks in his favor.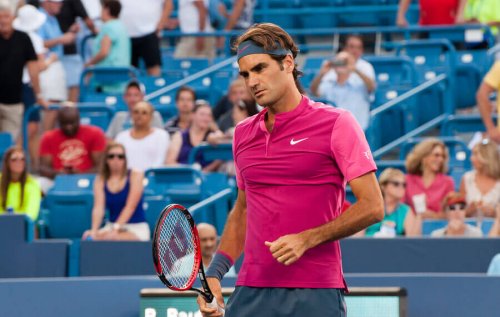 The last decade of tennis has been dominated by three players– the best in tennis history no less. Rafael Nadal and Novak Djokovic are no doubt a part of that list but Roger Federer holds records that might place him right at the top.
Roger Federer"s most impressive records
The Swiss tennis player that continues to shine, even today at nearly 38 years old, has made some incredible records during his career. His most impressive achievements include victories, titles and consistency in the top spots of the ATP ranking. Read more about his impressive feats in our post today.
Number one forever
This may very well be the most impressive feat on the list: first, Federer beat Pete Sampras" record of 286 at the number one spot on the ATP ranking. He held the spot for 310 weeks, which is nearly six years on the top. In addition, 237 of those weeks– or four and a half years– were consecutive.
And that"s not all; Federer is the oldest player to have claimed this record. He was 36 years and 10 months old when he claimed the top rank spot for the first time.
The three-digit club
Only two men in the entire history of tennis can gloat about having won more than 100 professional titles. The first was Jimmy Conners, an ex-tennis player form the United States who won 109 titles during the seventies and eighties. One of the most commendable details about his many victories is the eleven-year time span that he won them all in.
But, in 2019, Roger Federer joined this exclusive three-digit club after competing for 18 seasons. Currently, he holds 102 ATP titles. As for victories, Federer still holds his own against Conners" records. While Conners has won more matches (1,274), Federer is close behind with 1,222 victories.
And Federer has the advantage of still being in the game. He can still establish himself as the most successful tennis play of all time. Will he make it?
Roger Federer: Grand Slam records
People say that big events make big champions. In the case of Roger Federer, it"s completely true. He"s always delivered bigger and better during important tournaments.
This particular quality– that very little players possess– has made him into one of the players that have the biggest Grand Slam records. First off, he"s won the most with 20 titles. Furthermore, he"s reached the finals, 31 times, more than any other player.
Lastly, he"s also won the most male"s singles matches: 353 and counting. Most of his wins took place on the grass courts at Wimbledon, which he"s won a total of eight times. No player has lifted the Wimbledon Cup in victory more times than Federer. On grass courts, he has an impressive 87 percent likelihood of winning.
Roger Federer: the longest final
As if his victories and titles weren"t enough, Roger Federer holds another interesting record: facing Novak Djokovic, he"s played in the longest final in the history of Wimbledon. Unfortunately for Federer, Djokovic ended up winning in five sets despite Federer"s aces and initial lead.
Unstoppable Top 10 victories
At the strongest point in his career– though it"s hard to pinpoint a time when his whole career has been successful– Roger Federer was unbeatable even for the best tennis players on the planet. He"s won the most number of non-Grand-Slam tournaments with an impressive 216 victories. What"s more, he won 26 of them consecutively. Incredible!
Roger Federer: the threats to his amazing records
We live in a time where the best records are constantly being rewritten. Prime examples are athletes such as Michael Phelps or Usain Bolt in the Olympics or Lionel Messi in soccer.
One possible explanation behind the incredible records lies in the advances in training, diet, supplements, athletic wear, etc. But, of course, a great deal of their success has to do with the athletes themselves.
The constant new records are happening in tennis, too. Roger Federer"s records marked an era but they"re closely followed by two extraordinary tennis players: Nadal and Djokovic.
Currently, both Nadal and Djokovic reign in a particular Grand Slam tournament: Djokovic has won the Australian Open the most amount of times with seven titles and Nadal has won the French Open 12 times. Meanwhile, Federer has won Wimbledon the most. The US Open is still waiting for the next player to beat Richard Sears, William Larned and Bill Tilden. They share the same record of seven titles.
Nadal, who holds 18 Grand Slam titles, only needs two more to catch up with Federer. Djokovic isn"t trailing too far behind either with 15 titles. All three have left Sampras" 14-title record in the dust.
Wrapping up, some of Roger Federer"s records, such as the number of wins and his ATP titles, seem impossible to beat. But, the age difference between his main rivals might work against Federer as he tries to maintain the record for Grand Slam titles. Only time will tell what happens next!
It might interest you...